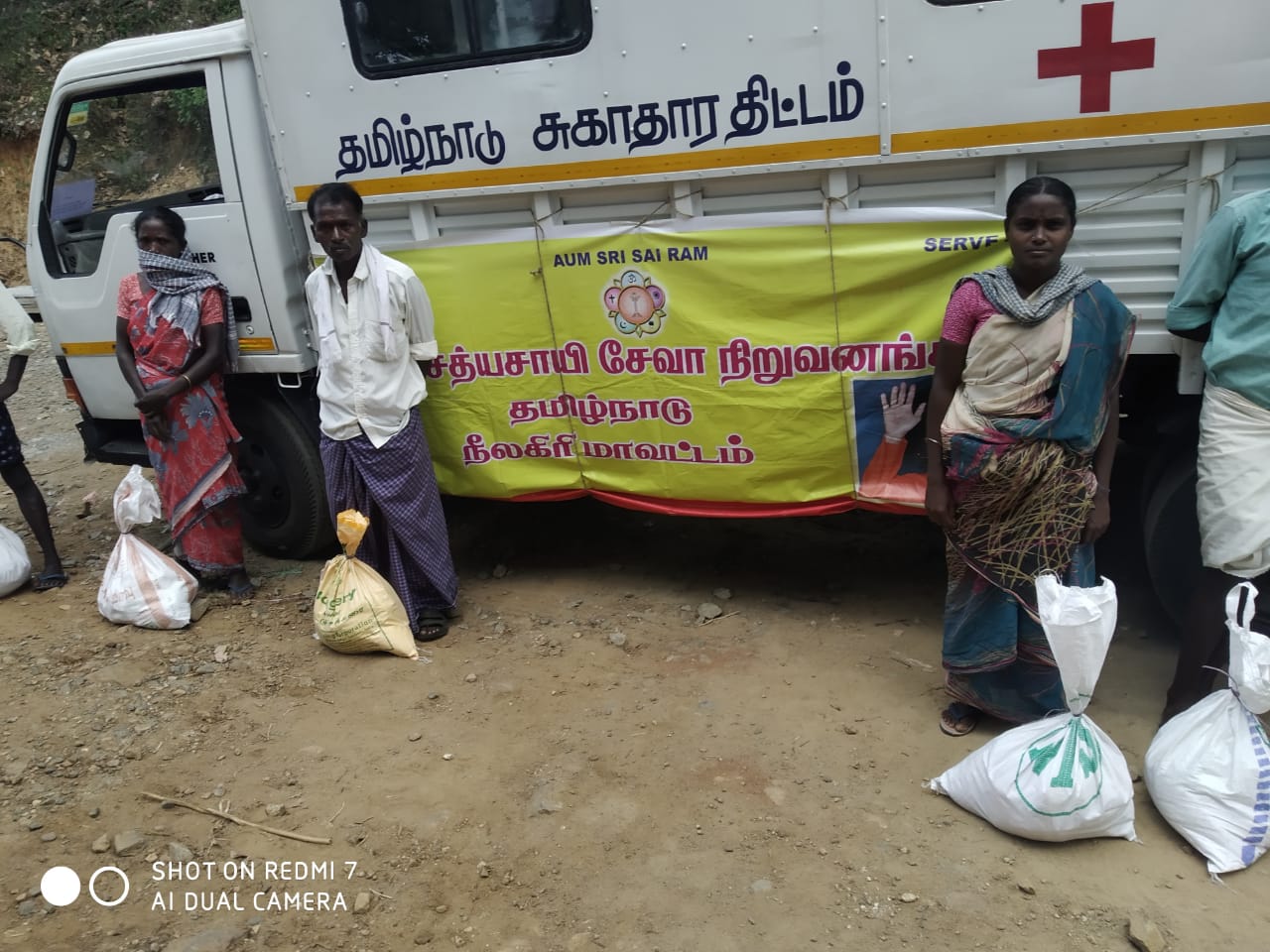 Aum Sri Sairam
Sairam. With the blessings of our beloved Swami, 645
Amirtha Kalasam
kits (Kotagiri zone – 400 nos, Gudalur zone – 160 nos and Kundha zone – 85 nos) were distributed to the needy Tribal people throughout the District on 25 May 2020 by 3 teams comprising few Sevadals along with Govt Officials.
First Team ( Kotagiri Zone)

:
District Youth Coordinator, Dist Coordinator (EHV), ZC (Kotagiri Zone) and Convenor with NAVA secretary. 400 Amirtha Kalasam kits were distributed to the needy Tribal families.
Second Team ( Gudalur Zone) :
ZC( Gudalur Zone), Convenor and senior devotees with Tahsildar, VAOs and Assistants.   Tribal Hamlets  covered were  Kaiyunni,. Suurat , Muttin moola , Kappala Thiru mangalam  and Pandalur town and 160 Amirtha Kalasam kits were distributed to the most needy Tribal famlies.
Third Team ( Kundha Zone) :
 The District President, Dist Service Coordinator, Prashanthi Seva Coordinator, ZC (Kundha Zone) and Convenors of Manjoor and Mattakandi with Tahsildar, VAOs along with their Assistants.  Tribal Hamlets like JJ Nagar, Kamaraj Nagar, Thania kandi, Koormiapuram and Bellathi combai were served with 85 kits of Amirtha Kalasam
Sairam. We also were fortunate to give away Swami's Prasadam to a Physically Challenged boy in a Tribal village.
Needless to say, our beloved Bhagawan, who is a deenadayalan, was so pleased and blessed all with Love Showers in the form of rain at the end of distribution in Kundha zone.😊
Jai Sairam.
Sri H K Sundaraj, District President, Nilgiris
Email: saisundarhk@gmail.com
Helpline & Feedback: admin@ssssotn.org