Aum Sri Sairam
Distribution of Amrutha Kalasam ~ Nilgiris District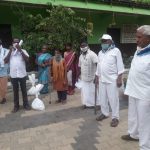 Sairam. With the blessingsof our beloved Swami, Amrutha Kalasam kits containing essential grocery items like Rice, Dal, Sugar, Salt, Oil, Spices including Vegetable items were distributed to the Physically Challenged people in different parts of Gudalur Taluk yesterday. Zonal Coordinator and two  Sevadals have assisted Government Officials in the distribution by visiting each house of the Physically Challenged in connection with the Aradhana Mahotsavam of our beloved Swami.
This is in addition to the 75 kits already distributed in Gudalur zone in Nilgiris District.
With this total number of Amrutha Kalasam kits distributed is 325 (250 + 75) nos in the District.
Jai Sairam
Sri H K Sundaraj, District President, Nilgiris
Email: saisundarhk@gmail.com
Helpline & Feedback: admin@ssssotn.org