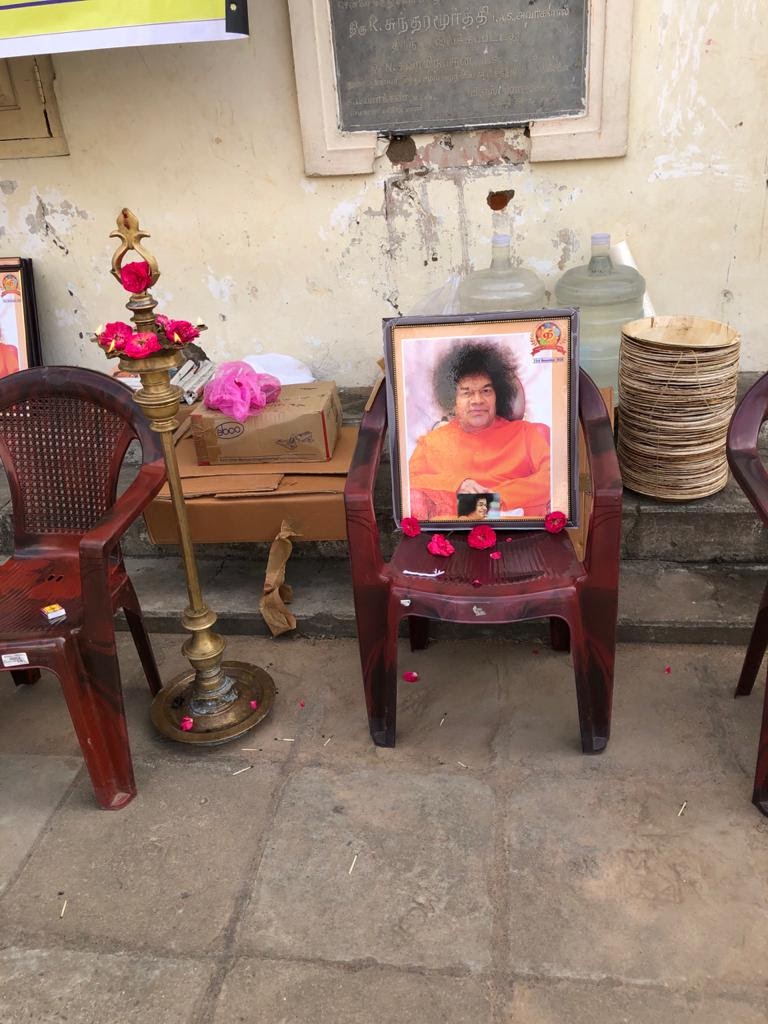 Aum Sri Sairam
Sairam, by the grace of our most beloved Mother Sai, Chennai Metro East District conducted a Grama Seva at Manampathy Village near Siruthavoor on 23.01.2021, Saturday.
Following activities were conducted in the Sai Grama Seva by maintaining
1)the social distancing, wearing mask and hand sanitizing.
2)Also thermal checking was conducted for each and everyone.
3)Even before entering the Temple premises, all our Sevadals and others were served with Kabasurakudineer in which Swami's Vibuthi also mixed for good resistance and Divine power.
The program started with our beloved Sai Bhajan and prayer in the Temple.
01.  Temple cleaning – entire premises of Thirukarai Easwarar Temple was cleaned by our Sai sisters and Sai brothers.
Especially our Samithi and village Bal Vikas children and local village youth members were actively participated in this great Seva.
After cleaning the Temple, special Abhisegam for Lord Vinayaga, Lord Shiva, Lord Ambal, Lord Murugan performed by chanting Rudram Chamakam, Sri Suktam, Durga Suktam, Purusha Suktam, Thiruvasagam Sivapuranam, Devaram and most importantly our beloved Sai Bhajans.
Veterinary Camp – Totally 4 veterinary doctors including Asst. Director of Animal Husbandry Department, Chengalpattu district and 4 Livestock inspectors attended the cattle camp.  Wonderful arrangements were made for the camp by our local Sai youth.
Program started with lighting the lamp by Asst. Director, Doctors, our Sai brother Retd. IAS officer Sri. Vaithyalingam, Spiritual Coordinator Sri. Murali Mohan and the District President Sri Prabhu Krishna
Special vaccine like Triopac, Rabbi's, F&M and other important medicine were given to all  the cows.  Also all the cattle were treated for deworming, mastitis, tested for pregnancy, artificial insemination done for required cattle and also treatment given for other problems.  Totally 122 cows, 46 calves, 104 sheep and goats, 53 hens and 5 dogs were treated and local village farmers are benefited with this unique Cattle Seva activity.
After cleaning the Temple and Veterinary Camp Seva, activity got concluded with Maha mangala Aarathi to our Beloved Mother Sai.
Short speech given about these Seva activities to all by the District President.
Also we discussed about the formation of a Sai Bhajana Mandali in the village along with Grama Bal Vikas and our Sai youth from the village enthusiastically volunteered themselves for the same and also requested us to inform and engage themselves for other Sai activities in future.
Narayana Seva done both in the morning and in the evening and Swami's Maha Prasadam distributed to all the participants and villagers.
Swami's beautiful big size photo, Swami calendar, Swami book and Swami vibuthi were given to all the doctors and attenders.  The same was also given to the Temple authorities, Village Bal Vikas gurus and Bhajana Mandali Convenor.
All the village youth members were given Swami's calendar, Vibuthi and books.
120 Tamil Sanathana Sarathi were distributed to the villagers, youth and Sai Devotees.
Ultimately as Divine Saint Manikavasagar has said "அவன் அருளாலே அவன் தாள் வணங்கி", because of our most beloved Mother Sai's Grace, blessings and wishes, the Grama Seva activities went on very well and all our Sai Brothers, Sisters, Bal Vikas children and other youths thanked our beloved Swami for giving this opportunity and prayed for more such Devotional Seva activities in the future and returned back with the Divine goosebumps and  tears that comes out automatically due to extreme happiness and bliss.
OM Sahana Vavatu
Sahanau Bhunaktu
Saha Viryam Karavavahai
Tejasvi Navaditamastu
Ma Vidvishavahai
OM Shanti Shanti Shantihi.
Jai Sairam.
Yours ever in Sai Seva.
Sri Prabhu Krishna, District President, Chennai Metro East District
Email : prabhusai99@gmail.com
Sai Devotees,SSSSO,Chennai Metro East District.