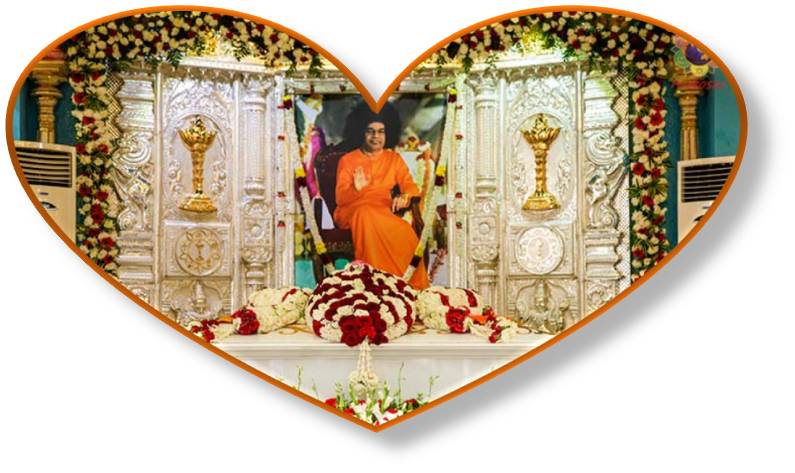 Aum Sri Sairam
"Chanting the Divine Name is most important in this Kali Age. There is no better medicine than Namasmarana (remembrance or repetition of the name of God). Therefore, always chant the Divine Name. Chanting of Divine Name will do away with all your troubles and unrest and confer peace and bliss on you."
Divine Discourse 12 July 1996
The Spiritual Activities happening now shall hold witness in the history of mankind to show that no other period has mankind prayed so intensely or reminisced about God continually.  This lock-down is a blessing in disguise for humanity to go-inward -internal, seeking His blessings, though the external shrines are most mercilessly, shut for him.
With complete faith in our beloved Swami and fully aware of the fact that, following the path as laid by Swami is the only way out, the devotees of the Sri Sathya Sai Seva Organisations, Tamilnadu engaged themselves in various spiritual activities by using technology. Namasmarana chanting of Sai Gayathri, Sri Sathya Sai Ashtothram, Sri Sathya Sai Sahasranama and singing of Bhajans as well and participating in the Online Satsang . It can be said that, this is the time period which is witnessing the mankind going steady with intensive prayers.
Following activities by our Tamil Nadu districts go on to show that no lock-down can stop them.
Theni:
Perikullam Samithi devotees engage in daily chanting of Gayathri mantra. They participate in Bhajans from their respective homes few days in a week.
Kamayagowndanpatti Samithi chants Sri Rudram daily. Participating in Bhajans and in Satsangh are the other activities they are engaged in.
Tirunelveli:
Apart from Sai Gayathri chanting, the devotees participated in the Online Satsangh conducted in various topics on Ramakatha rasavahini, Bhagavad Geetha, Tapovanam. Rudram chanting was also conducted through App.
By motivating the youth boys and girls through separate online sessions and after discussions they were given 9 point of code of conduct customised to each of them, to utilise the lock down period, effectively for their spiritual sadhana. The boys and girls look upon these activities enthusiastically, by not just merely participating, analysing and submitting their reports as well, to their respective Gurus.
Tirunelveli District (activities centred around our Beloved Swami)

Kanchi South:
Reading of Sai Literature, chanting of Sai Ashtothram and Sai Sahasranama Archana, listening to Online Satsang on various topics were the activities of the devotees. Balvikas classes were conducted through App. Narayana Seva was done with love to the sanitary workers of the neighborhood keeping in mind social distancing and the cleanliness norms.
Rajapalayam Samithi
Activities of this samithi during this month included activities like Gayathri homam in their respective dwellings. The devotees also participated in Satsangh conducted through App in the evenings.
Also, the devotees participated in bhajan sessions conducted through internet, which covered 500 bhajan songs.

Tuticorin District:
As part of the daily activities, the devotees involved themselves in chanting of Sai Gayathri from 9pm to 9.15 pm. Devotees also chanted Kandha Sashti kavacham in their daily routine.
Namakkal District:
Devotees of this district participated in various daily individual sadhana and collective prayers as well, with ardent devotional fervour. The activities included Omkar, Suprabhatham,, study of Sai Literature, chanting of Sai Gayathri, Sai Ashtothram and Sai Sahasranama. Apart from these they also involved in Jyothi meditation, Sai Divya nama Likhitha Japam, and participated in the Satsangh conducted online from time to time. Some of them also undertake sadhana in the 9 Point code of conduct given by Swami.
Kovilpatti, Tuticorin dist :
Devotees of this samithi involved in the activities like Omkaram, Suprabhatham, Sri Sathya Sai Ashtothram, Gayathri chanting and Sai Gayathri chanting. They also chanted Sri Vishnu Sahasranama, Sai Gayathri Japam one lakh times and Gayathri chanting and writing of the mantra" Om Sai Krishnaya Namaha" through Likhitha Japam. The devotees also did the reading of Tapovanam. Rendering of Bhajans at Swami's Lotus Feet also featured in their spiritual sadhana.
Kanchi North:
During these tough times, as an offering to Bhagawan the youth wing of Kanchipuram North planned to have a virtual Satsang on the life of our beloved Bhagawan based on the "Sathya to Sai" episodes that was broadcasted by the Radio Sai team. 14 mahila youth participated in this rare opportunity of reminiscing our loving Sai's life mindfully which helped them to prepare a power point presentation with 120 slides for an effective presentation.
Daily Spiritual activities by Kanchi North District

Virudhunagar:
Daily activities of the devotees include Omkaram, Suprabhatham, Sri Sathya Sai Ashtothram and Gayathri mantra chanting. They also did the reading of Tapovanam and Shirdi Sai Satcharitam. Sri Vishnu Sahasranama chanting, Hanuman Chalisa chanting and Sai Gayathri chanting also marked their daily spiritual sadhana and writing of Likhitha Japam as well. From the vast Sai Literature, penned by our beloved Bhagawan, for us to read and construe, the devotees picked one for reading as their daily sadhana.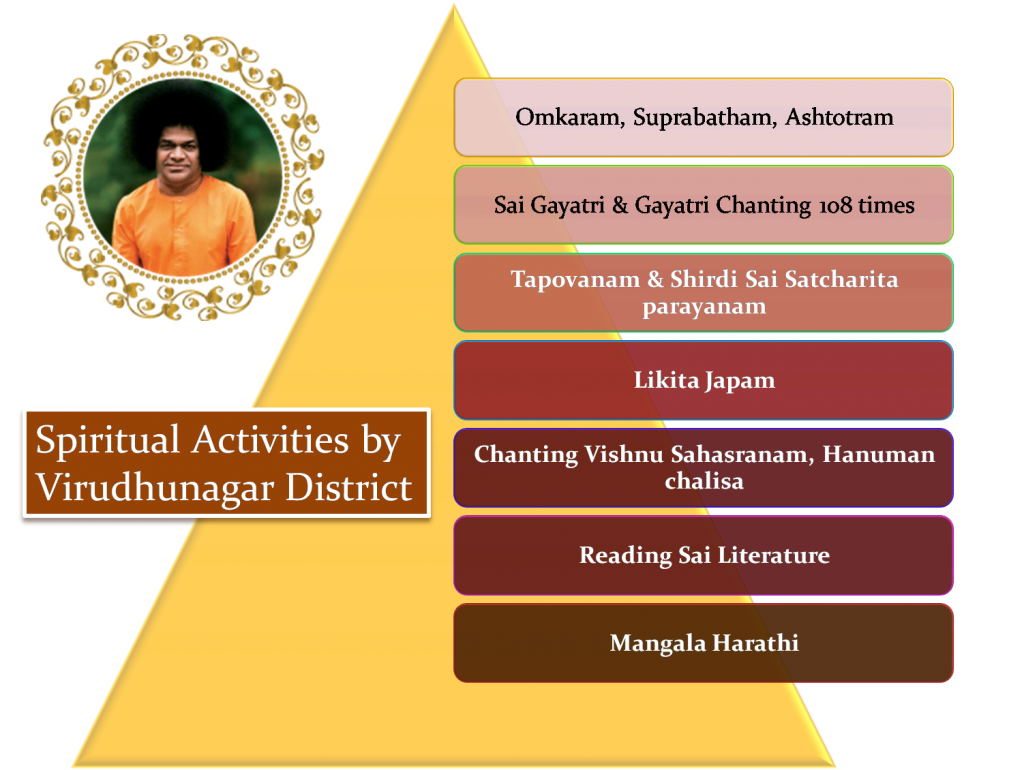 Erode:
Devotees offered the chanting of Sai Gayathri at the Lord's Feet every morning and night. Rama Navami was celebrated by singing bhajans on Sri Rama all the devotees in different locations through online without moving out of their respective homes and yet participated and offered the flowers of devotion at the Lotus Feet. Around 70 bhajans were sung.
Also, intermittently instrumental bhajans were offered. Easwaramma Day was celebrated with the usual fervour by the balvikas children by rendering around 73 bhajans which included instrumental bhajans.
……..activities are still on and reporting will continue…..
Jai Sairam
Sri Vijay Krishnan, Spiritual Coordinator , Gents
Smt Kavitha Murali, Spiritual Coordinator, Mahilas