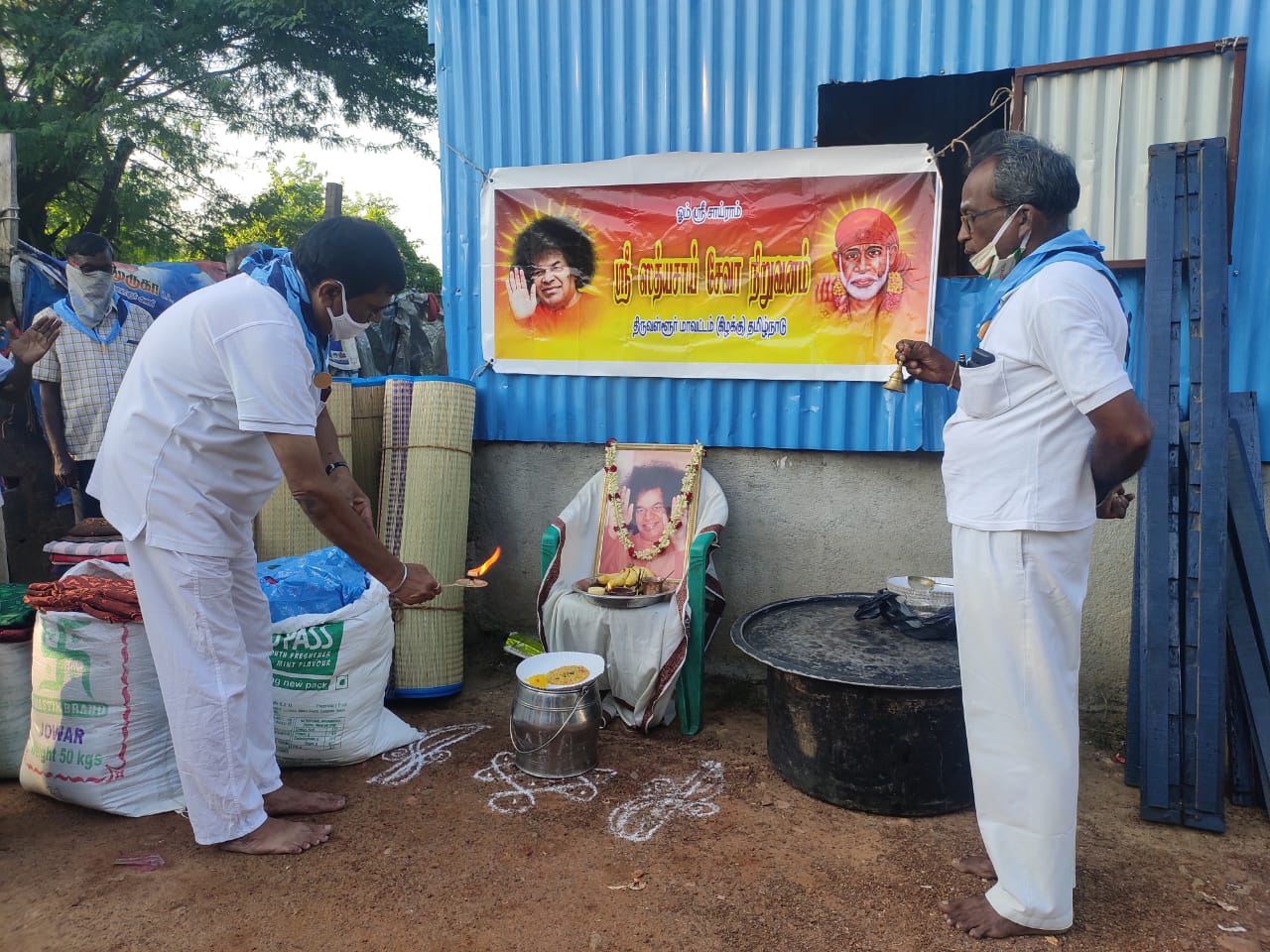 Aum Sri Sairam
Tamil Nadu
Nilgiri District:
Sairam.
Amrutha Kalasam
kits containing the following grocery items were distributed to the 6 Panchayat Cleaning workers at Panchayat Office by T.Horanally Samithi on this auspicious day of 95th birthday of our beloved Swami.
Rice.                     10 kg
Oil.                          1 lit
Dal.                         1/2 kg
Sugar.                     1 kg
Soya.                       1/2 kg
Turmeric Powder.  I pack
Marie Biscuit.       1 pack
Match Box.            1 no
Sanitiser.                1 bottle
Kanchi North Dist

r

ict
:
Sairam,  with Divine Blessings,  Bhagawan's 95th Birthday celebrations went on well in Kanchipuram North,
3 saplings of Vatavruksham planted with Veda chanting, Homams and Bhajans.
95 Blankets distributed to street dwellers.

Amrutha Kalasam

distributed at the door steps in 120 houses along with Prasadam, hand wash and masks.
Prasadam also distributed to devotees, members, Balvikas parents,  SSSVJ school teachers,  SSSVIP people, Mobile hospital doctors etc.
Samitis  conducted online programs
Tirupur District:
Sairam. Swamis 95th Birthday celebrations began with all felicity at Ramnagar Mandir today between at 7 a m.
Today the Vata Vruksham saplings were planted at the Ramnagar Mandir today by the devotees preceded by the pooja at the Mandir at 7 am
Thanjavur District: Sairam, with the blessings of Bhagwan today, 23 Nov 2020 in Thanjavur District,
we planted VADA VIRUKSHAM saplings at the Ramanadhar Ashram.
Distributed 295 Blankets to road side dwellers,
In the VIP village we distributed Vastradhan and Swami's birthday Prasadham
Chennai Metro
Tiruvallur East District:
Sairam, with immense Blessings of our Beloved Bhagavan, Samithis of Tiruvallur District (East) celebrated 95th Birthday by offering Service activities at the Divine Lotus Feet.
Distribution of Blankets along with Bhagavan's photo to the road side dwellers, Sleeping mats, Amruthakalasam to the needy and sanitary workers,  Narayana Seva, Distribution of Sweets, Vibhuti packets and Bhagavan's photo to Samithi members and Senior devotees.
Sharing few photos from each Samithi.
Tiruvallur West District
: By the grace BAGWAN in Thiruvallore West District
distributed about 200nos bedsheets to the road side dwellers all over the district.
Vata Viruksham saplings planted in 3 locations.
Atma sadhana: members followed in their respective residences.
Laddu prasadam issued to all the devotees and public.
Jai Sai Ram