District President: Sri Aravamudhan R
Email: saisevakan@gmail.com
Aum Sri Sairam
---
Christmas Day celebrations at adopted Village
Sairam. With the abundant Grace of Our Beloved Bhagwan today 25-12-2021 Kumbakonam Samithi did uzhavarapani (temple cleaning) at Gho Samrakshana Samithi, Vishnupuram Pananthopu, an adopted village by Kumbakonam Samithi, 29kms away from Kumbakonam .
Approximately 19 Gents and 12 Mahilas participated in this activity. Cleaning the cattle sheds, troughs and gave bath to 65 cows and calves. Mahilas learned how to make the seed balls, Vibuthi making etc. from the Gho Samrakshana Samithi people.
Narayana Seva was also done. Sri. Sai Srinivasan, former District President, and the Present district President also participated.
This is the second village adopted by Kumbakonam Samithi.
BHAGAWAN SRI SATHYA SAI BABA VARU BIRTHDAY CELEBRATIONS
Swatchata Se Divyata Tak and Swami's Avathar Declaration Day Celebrations
Sairam by the abundant Grace of our Beloved Bhagwan today 19-10-21 as a part of Swatchata Se Divyata Tak and Swami's Avathar Declaration Day Celebrations, our Kumbakonam Samithi did an Uzhavarapani at Sri Ramachandra Theerthar Brindhavanam, kumbakonam, Thanjavur District. Nearly 17 Gents and 12 Mahilas Sevadals participated and benefitted. Started by 9-30am finished by 2-00pm. Flower saplings were also planted.
Temple Cleaning at Arulmigu Konganeswarar Temple
Uzhavarapani (Temple Cleaning) at Arulmigu Konganeswarar Temple Tanjore. This activity was done by our Srinivasapuram Samithi on 3rd Oct 2021.
This activity was participated by 8 Mahilas and 2 gents Sevadal from morning 10 a.m. to 12-30pm.
Cleaning Activity at Kumbakonam Samithi
Sairam on 2 Oct 2021, Bhagwan gifted anopportunity to Kumbakonam Samithi to clean the Samithi and was this carried out by 15 Balvikas Students of 2nd and 3rd group along with Samithi Convenor, 4 Sevadals, District Educational Co-ordinator and 2 Balvikas gurus. Jai Sairam
Vaccination Camp at Magar Nombu Chavadi
Covidhield vacccination programme held at Thanjavur MagarNombu Chavadi Samithi today. 76 persons were benefited. Thanks to Swami.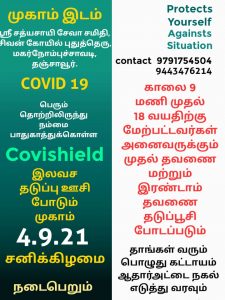 Vaccination Camp at Manambu Chavadi Samithi
Sairam today, 30 Aug 021 COVAXIN vaccination camp completed with 100 dosages by the grace of Bhagwan at Thanjavur Manambu Chavadi Samithi
Jai Sairam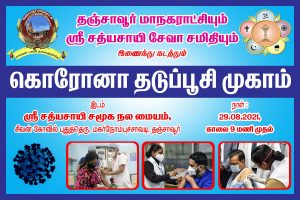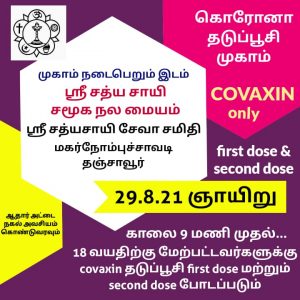 Tiruvilakku Pooja
Sairam with Swami's abundant grace around 40 Mahilas participated in the Tiruvilakku pooja on 13 Aug 2021
Jai Sairam