Sri Sathya Sai Seva Organisations is functional in Madurai District with members from various cross sections of society and different faiths.
With around 13 Samithis and 3 Bhajan Mandalis, the Organisation serves as a platform for its members to undertake spiritual practices through its various wings such as spiritual, education and service for their own betterment.
The thrust is on self-transformation for it is only individual transformation that would ultimately lead to global transformation.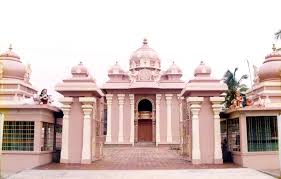 Madurai District is Blessed with More than 10 visits by Bhagawan.
The first visit was as early as 1947, when HE stayed at Chettiar's house in Meenakshi Amman Sannidhi. Then Bhagawan again visited Madurai on 8th March 1960 at Sri GNC Ramasamy Chettiar home.
This was followed by Visits on 26th August 1961, 9th June 1966 when Bhagawan Mercifully stayed for 11 days, December 1967, 29th May 1984, April 1994, April 1997, and 1998.
Bhagawan visited Madurai on 22nd April 1999, when the prestigious Ananda Nilayam was inaugurated.
Bhagawan aain visited Madurai in 2005, 2007 and finally in 2009.
The first Samithi in Madurai was formed in the year 1965.
DP's Desk
Aum Sri Sairam
I offer my most loving prayerful pranams at the Divine Lotus Feet of my Beloved Bhagawan Sri Sri Sri Sathya Sai Baba.
All that have been done by HIS infinite mercy and Grace and with HIS love and Blessings, we always strive to improve.
It is HIS blessings and Grace, that I am honoured to lead such a district as Madurai, which is unique in various ways and with many ardent devotees and which has a rich cultural lineage.
Jai Sairam!
Join Us
[]
keyboard_arrow_leftPrevious
Nextkeyboard_arrow_right
Seva Opportunities