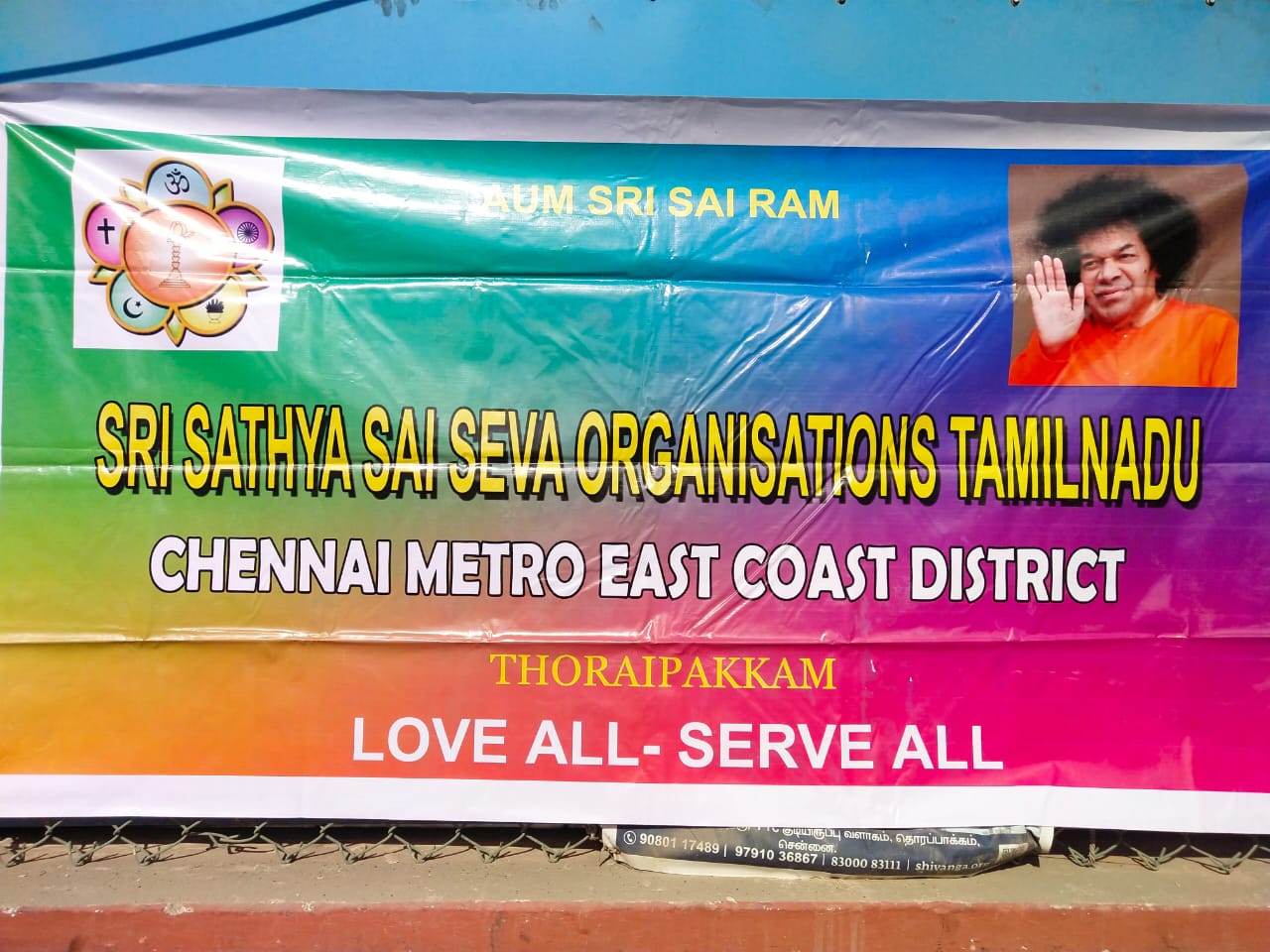 Aum Sri Sairam
With the blessings and Divine grace of our most beloved Mother Sai, Thoraipakkam Sri Sathya Sai Seva Samithi was Inaugurated on Sunday, 7th March 2021, at Lord Bala Vinayaga Temple, Thoraipakkam.

The day started with Omkaram Suprapatham and Nagarsangirthan on 7th March 2021 from 5 Am to 6.30 Am. Around 15 members attended the same and the morning atmosphere was punctuated with Divine energy.

The auspicious occasion of inauguration commenced with lighting the Lamp of Love by Smt & Sri Srinivasan, Smt & Sri. Krishnan Raman, Smt & Sri. M Lakshmi Narayan by chanting Asathoma Sathgamaya. Veda parayanam was chanted by Balvikas students, Sai brothers & Sisters followed by Swami's Divine Ashtotharam followed by energetic Sri Sathya Sai Bhajans.

Sai brother Sri. M Lakshmi Narayan welcomed all the participants and words poured forth on  how Swami has blessed Thoraipakkam with its devoted Sai Seva and Balvikas. Sai brother Sri. K Prabhu spoke about the importance of Sri Sathya Sai Seva Organisations and SSS Seva Samithi.  
Sri. V Kumaresan, Temple Trustee  gave a speech in which he revealed that though  a lot other Organisations / individuals were requesting for utilizing the Temple premises for their activities, he has given consent only to our Samithi for Sai Seva activities and  everyone could  feel Bhagawan's hand in his decision.

Sri. PV Vaidailingam, Retd. IRAS inspired one and all by his speech and expressed his desire to see one Sri Sathya Sai Seva Samithi grow into 10 Samithis. Also he spoke about his deep desire to do more Sri Sathya Sai Grama Seva which will touch the Villager's life through Swami.

Sri. S Sundar, Director, Sri Sathya Sai Media Center, PSN delivered a wonderful speech about how Swami is always with us at all times,  and comes to our rescue in particularly critical times. 

The official Inauguration of Sri Sathya Sai Seva Samithi of Thoraipakkam was done by all three of them by handing over a Swami's beautiful picture to the Samithi Convenor Sri. L Rajasekar.

All the Samithi office bearers including Convenor and other participants took a Pledge and Prayer given by Our beloved Swami. Swami's beautiful photo and books were given to Sri.V Kumaresan, Trustee. This was followed by a creative and beautiful Sri Sathya Sai Bal Vikas cultural program conducted by the Samithi BV children. Swami's Photo, Vibuthi Prasadam and other Sai gifts were given to the Bal Vikas children.

Finally Maha mangala Aarathi was taken followed by Narayana Seva for all the participants and devotees.

Totally 70 Sai brothers & sisters and 50 Balvikas children had participated in the Divine occasion.

Jai Sairam.
Yours ever in Sai Seva.
Messengers of Sri Sathya Sai,Sri Sathya Sai Seva Organisations, Chennai Chennai Metro East Coast