District President: Sri Anand R
Email: anandgc@gmail.com
Aum Sri Sairam
---
Disaster Preparedness Program– II
Sairam on Sunday 29 Aug 2021, DM program conducted by Chennai metro South. Thanks to our Sri. Anandavel and team for conducting the program. This is the second program conducted at Chennai Metro South. First program was conducted on July 25th.Thanks to swami for HIS blessings.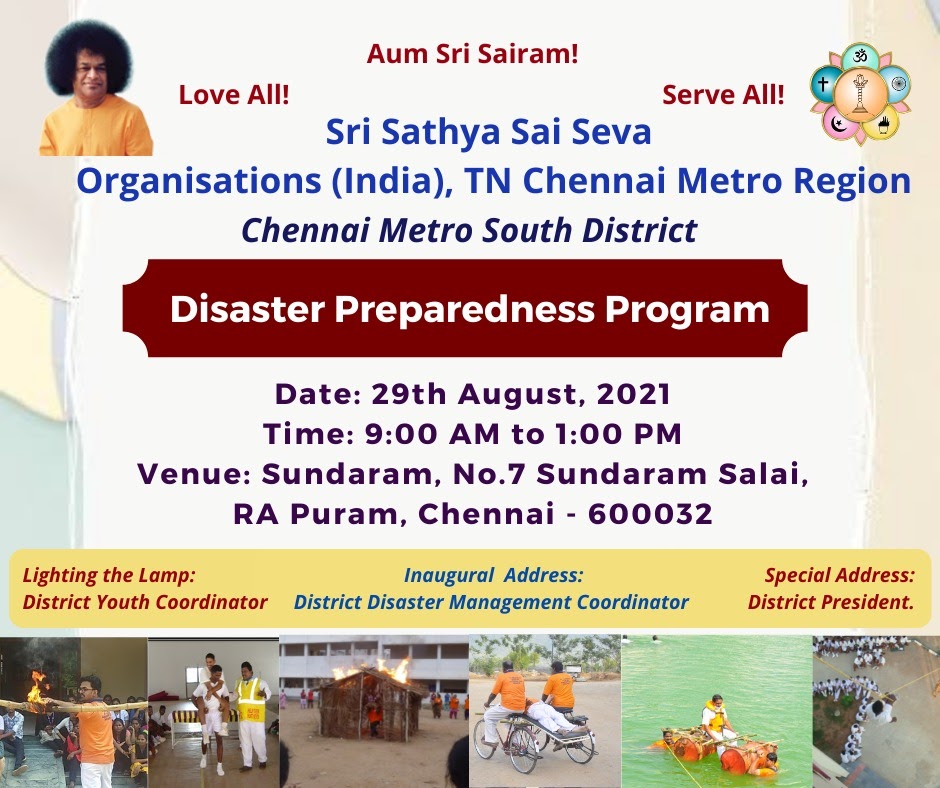 Vaccination Camp at Sri Sankara School, Tiruvanmayur
With the Blessings of our beloved Bhagwan , Sri Sathya Sai Seva Organizations, TN Chennai Metro South East district conducted a Covidshield Vaccination camp today 28.08.2021, at Sankara School, Thiruvanmiyur, through Greater Chennai Corporation .

Total Beneficiaries-100 Covishield only

We are thankful for this wonderful opportunity to serve our society with our beloved Bhagwan' blessings.
We are very much grateful to Sri. S.R. Chandrasekaran State President(Chennai Metro region) and Shri Sridhar of Kilkattalai Samithi for their continued support and coordination for the smooth conduct of this camp.
Our thanks to the Medical Team of Zone – 11 and all our Sevadals who participated in the planning and smooth conduct of the camp.
Jai Sairam
Disaster Awareness Program
Sairam with Swamy's blessings SSSSO TN Chennai Metro Region, had a day long Disaster Awareness program on 25-7-21 at Sundaram. It was inagurated by one of the DP followed by a very special address of the TN CM-SP. During the inaugural address the District Disaster Management Coordinators were taken their role at the Divine Abode. All the participants were actively taken part in the pgm. We pray our beloved Swamy to strengthen the team at the required Districts
---
Amrutha Kalasam distribution
Date of Activity: 18 July 2021
Sairam with blessings is our beloved Bhagwan second lot of Sathya SAI Amrutha kalasham prasadam was handed over to the devotees. Total 250 packets of rice 10kg and other 15 types of groceries.
Thanks to all. Jai Sairam