District President: Sri Anand R
Email: anandgc@gmail.com
Aum Sri Sairam
---
Christmas Day Celebtrations at adoapted Village
Sairam, with the divine and loving grace of our beloved Mother Sai the members of Chennai Metro South visited adopted village KAAYAR village today and distributed Mats to the deserved extended Sai family from the Irular community and based on the request from one of the village people Iron Box was presented for their well being and self sustenance. Academic tuition classes were taken by the team.
Thanks to Swami
Date of the Activity – 25 Dec 2021
சாய்ராம் நமது சாய் அன்னையின் தெய்வீக அன்பினால் சென்னை மெட்ரோ தெற்கு மாவட்டத்தின் உறுப்பினர்கள் தங்களின் கிராம சேவையின் போது அங்கிருக்கும் மக்களுக்கு பாய்களை அளித்தனர் மற்றும் இன்னும் ஒரு தம்பதியருக்கு அவர்களின் வேண்டுதலுக்கு இணங்க அவர்களுக்கு ஒரு இஸ்திரி பெட்டி வழங்கப்பட்டது. மேலும் அங்கு இருக்கும் கிராம மக்களின் குழந்தைகளுக்கு பள்ளிக்கல்வி டியூஷன் எடுக்கப்பட்டது சாய்ராம்.
SSSSO Chennai Metro South district – Sunday Sathsang
Date:26th December Sunday
Evening 7.00 pm
Through online
Topic: Yesu Pitha Prabhu Thumaho Sai
Speaker: Sri.Narayanan, District President, SSSSO Tiruvannamalai district
Welcome address by Sri.Anand District President Chennai Metro south
concluding remarks by Sri.Karunanidhi Sairam, Convener, Srinivasa Avenue samithi
All are welcome to join thro
https://meet.google.com/dvm-rmgj-gun
Grama Seva at adopted Village
Todays grama seva at our kaayar village went off very well with participation of 50 bal Vikas children . The program started with distribution of notebooks and stationery kits to 50 children followed by taking of classes from I st std to 10 std as usual segregation of students class wise and ending with a bhajan followed by Brahmarpanam and lunch kudos to the gurus and youth of Royapettah samithi for making today's visit a memorable one we had 7 members from Royapettah samithi 2 from teynampet samithi and 2 from Mandaveli samithi Few snaps
Village seva by Chennai Metro South
Grama Seva
Sairam with Bhagawan's blessings Today Sunday, 12 Dec 2021, Grama Seva went on very well
Grama Seva at adoped Village Kaayar
Sairam, with the loving grace of our divine mother Sri Sathya Sai baba, members of Chennai Metro South visited our adopted village KAAYAR for conducting moral classes by our SSSBV gurus and also distributed bedsheets to our Sai family from the Irular community near the village.
The program started with Vedam chanting followed by bhajans and by moral classes.
12 Gents seva dals and 7 Gurus attended this seva. Classes taken for 54 children. Narayana seva served for all. Thanks to Swami for giving us this opportunity.
சாய்ராம் நமது பகவானின் பேரன்பு கருணையினால் சென்னை தெற்கு மாவட்டத்தின் உறுப்பினர்கள் மற்றும் ஸ்ரீசத்யசாயி பாலவிகாஸ் குருமார்கள் மற்றும் இளைஞர்கள் சேர்ந்து காயர் கிராமத்தில் குழந்தைகளுக்கு நன்னெறி கதைகள் மூலம் குழந்தைகளின் மனதில் நர் சிந்தனைகளை விதைத்தனர். இதில் ஸ்ரீ சத்திய சாயி பாலவிகாஸ் குருமார்கள் 7 பேரும் மற்றும் குழந்தைகள் 54 பேரும் பங்கேற்றனர்.இந்த சேவை நிகழ்ச்சி வேதம் மற்றும் பஜன் மூலம் தொடங்கி வைக்கப்பட்டது பின்னர் அங்குள்ள நமது சாய் குடும்பத்தின் அங்கமான இருளர் சமுதாயத்தின் மக்களுக்கு போர்வைகள் வழங்கப்பட்டது.
பகவானின் மங்கள ஆரத்தி மற்றும் நாராயண சேவை மூலம் நிகழ்ச்சி நிறைவு பெற்றது சாய்ராம்
BHAGAWAN SRI SATHYA SAI BABA'S 96TH BIRTHDAY CELEBRATIONS
Om Sri Sairam
SSSSO Chennai Metro South

Sunday Satsang Sairam, With the divine grace of our beloved Bhagwan we on behalf of Chennai Metro South are organizing online Sathsang on

21st November, 2021-sunday, at 7.00 pm

Speaker: Padmasree & Kalaimamani Dr.Sirkali G. Sivachidambaram
Topic:இறைவனுடன் இனிய அனுபவங்கள் (Experiences with Bhagwan Sri Sathya Sai Baba)

Introduction By Sri.K.N.Meenakshi Sundarm (Radio Sai-Tamil)
Summing up By Sri.JP Sairam (G.R.Jayaprakash) PRO Radio Sai-TN
The online link will be shared later.
All are welcome to join. Jai Sairam
Blood Donation Drive
With the divine blessings of our beloved Mother Sri Sathya Sai Baba, a Blood donation camp was organised and supported by the Sevadals of both Chennai Metro South and South East.
Total donors registered 79
Total donors bleeded 66
Due to BP and short in number of days after vaccination 13 donors were deferred.
Thanks to Swami for giving us the opportunity to increase the LIQUID LOVE donors. Special Thanks to the medical team from GH Super Specialty Hospital Omandurar campus. Thanks to the guidance by our Metro State President Sri. SR Chandrasekar and Jt state service coordinator Sri. Sarveswaran.Sairam
சாய்ராம் எங்கள் அன்பிற்குரிய அன்னை ஸ்ரீ சத்ய சாய் பாபாவின் தெய்வீக ஆசீர்வாதத்துடன், இரத்த தான முகாம் சுந்தரத்தில் சிறப்பாக ஏற்பாடு செய்யப்பட்டு சென்னை மெட்ரோ தெற்கு மற்றும் தென்கிழக்கு உறுப்பினர்களின் பங்களிப்பால் சிறப்பாக நடைபெற்றது.
மொத்த நன்கொடையாளர்கள் 79
பதிவு செய்துள்ளனர்மொத்த ரத்த தானம் செய்தவர்கள் 66
பல மருத்துவ காரணங்களால் நிராகரிக்கப்பட்டவர்கள் 13
திரவ அன்பு நன்கொடையாளர்களை அதிகரிக்க எங்களுக்கு வாய்ப்பளித்த சுவாமிக்கு நன்றி.ஓமந்தூரார் வளாகத்தில் உள்ள GH சூப்பர் ஸ்பெஷாலிட்டி மருத்துவமனையின் மருத்துவக் குழுவினருக்கு சிறப்பு நன்றி.எங்கள் மெட்ரோ மாநில தலைவர் SR சந்திரசேகர் மற்றும் Jt மாநில சேவை ஒருங்கிணைப்பாளர் ஸ்ரீ. சர்வேஸ்வரன் அவர்களின் வழிகாட்டுதலுக்கு நன்றிசாய்ராம்
VILLAGE ADOPTION PROGRAM – KAYAAR VILLAGE – 20 OCT 2021
Sairam, With the Divine grace of our Beloved Divine Mother Bhagwan Sri Sathya Sai Baba, we the members of Chennai metro South inaugurated Village seva at KAYAAR near Thiruporur Kanchpiuram District. Our Metro State president Sri. SR Chandarasekar had inaugurated the program. Thanks to our Bhagwan did giving this opportunity
சாய்ராம் அன்பு தெய்வீக அன்னை பகவன் ஸ்ரீ சத்ய சாயி பாபாவின் தெய்வீக அருளால், திருப்போரூர் காஞ்சிபுரம் மாவட்டத்திற்கு அருகில் உள்ள கயாரில் சென்னை மெட்ரோ தெற்கு மாவட்டத்தின் சேவா உறுப்பினர்கள் கிராம சேவையை தொடங்கி வைத்தனர்நமது மெட்ரோ மாநில தலைவர் ஸ்ரீ. எஸ்.ஆர்.சந்திரசேகர் நிகழ்ச்சியை துவக்கி வைத்தார். இந்த வாய்ப்பை வழங்கிய பகவான் அவர்களுக்கு நன்றி.
Disaster Preparedness Program– II
Sairam on Sunday 29 Aug 2021, DM program conducted by Chennai metro South. Thanks to our Sri. Anandavel and team for conducting the program. This is the second program conducted at Chennai Metro South. First program was conducted on July 25th.Thanks to swami for HIS blessings.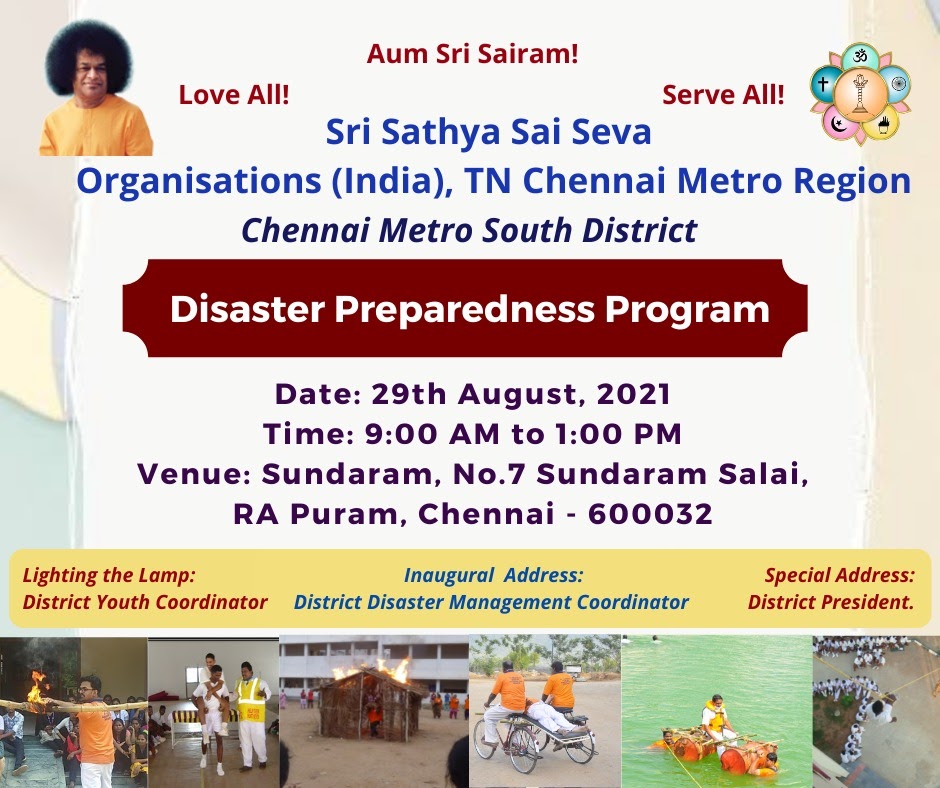 Vaccination Camp at Sri Sankara School, Tiruvanmayur
With the Blessings of our beloved Bhagwan , Sri Sathya Sai Seva Organizations, TN Chennai Metro South East district conducted a Covidshield Vaccination camp today 28.08.2021, at Sankara School, Thiruvanmiyur, through Greater Chennai Corporation .

Total Beneficiaries-100 Covishield only

We are thankful for this wonderful opportunity to serve our society with our beloved Bhagwan' blessings.
We are very much grateful to Sri. S.R. Chandrasekaran State President(Chennai Metro region) and Shri Sridhar of Kilkattalai Samithi for their continued support and coordination for the smooth conduct of this camp.
Our thanks to the Medical Team of Zone – 11 and all our Sevadals who participated in the planning and smooth conduct of the camp.
Jai Sairam
Disaster Awareness Program
Sairam with Swamy's blessings SSSSO TN Chennai Metro Region, had a day long Disaster Awareness program on 25-7-21 at Sundaram. It was inagurated by one of the DP followed by a very special address of the TN CM-SP. During the inaugural address the District Disaster Management Coordinators were taken their role at the Divine Abode. All the participants were actively taken part in the pgm. We pray our beloved Swamy to strengthen the team at the required Districts
---
Amrutha Kalasam distribution
Date of Activity: 18 July 2021
Sairam with blessings is our beloved Bhagwan second lot of Sathya SAI Amrutha kalasham prasadam was handed over to the devotees. Total 250 packets of rice 10kg and other 15 types of groceries.
Thanks to all. Jai Sairam