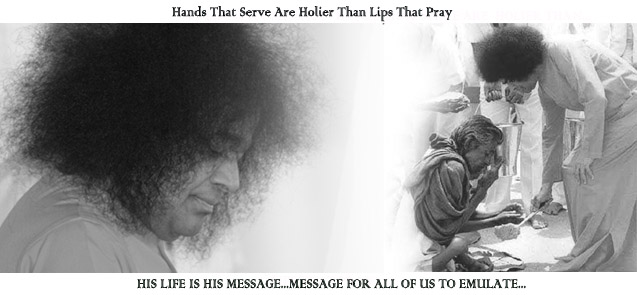 Aum Sri Sairam
What can the evil effects of Kali Age do to one

Whose heart is full of compassion,

Whose speech is suffused with truth, 

and Whose body is dedicated to the service of others? 

You may worship God with various types of flowers,

But He will not be pleased with such worship.

If you offer Him the lotus of your heart,

He will accept it with great love.

Never forget this great truth. (Telugu Poem)

Divine Discourse 17 July 1996
This is the grand declaration and assurance by our beloved Bhagavan to his loving devotees. In these uncertain times of a tiny virus taking the toll of all lives, when every moment is filled with fear, diffidence and all other negative qualities, let's hold on to His above saying and act upon it.
Though the tiny virus has confined us to our homes, our SSSSOTN warriors have found out a way to utilize this opportunity also in our favour. Fear, cowardice, dis-satisfaction, diffidence etc has no place in our organization and the hearts of those who are engaged in His service.  Be it a tiny virus or a mountain of plague, our beloved Lord has shown us the path of how to get rid of the same.  Kudos to those warriors who are ever engaged in His service and lighting others' path too!
Tirunelveli District
has been distributing
Kabasura Kudineer
  (kabam – cold; suram – fever; kudineer – concoction- a herbal concoction to be effective in managing COVID-19 cases.) in many places in the district for the past 175 days without a break!
++Kabasura Kudineer is a herbal concoction, comprising dry ingredients of ginger, pippali, clove, cirukancori root, mulli root, kadukkai, ajwain and many other herbs.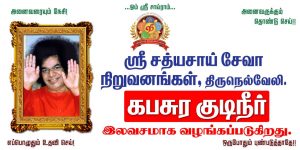 Madurai District
: Masks, home made pain relief oil with 11 ingredients, Vibhoothi and Swami photos distributed at Sholavandan, Madurai District every Friday for the past 14 weeks and total beneficiaries close to 3500++.
Chennai Metro North: 
The image says it all!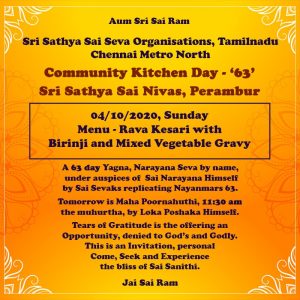 And the innumerable silent distribution of Amrita Kalasam kits to all those deserving souls!
A big salute to all those loving souls involved in the service of the distressed – known and unknown!
Jai Sairam