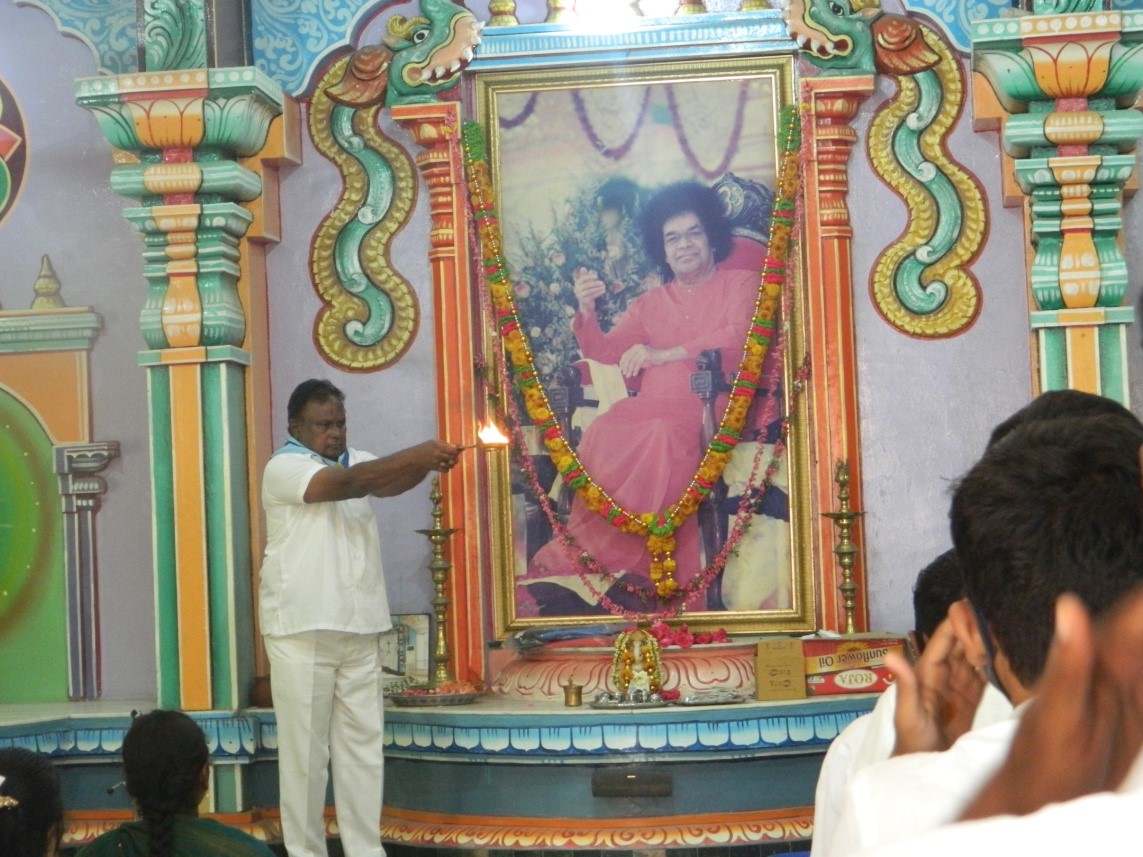 Aum Sri Sairam
Sairam, with the blessings and abundant Grace of our Beloved Bhagwan, the Distirct Level Balvikas Alumni Programme " GET IN– STICK IN '', and follow up programme of " Retreat 2 Retrace " held during July 2019 at " Sai Sruthi" Kodaikanal, was Organisesd by our Kumbakonam Samithi on Sunday 28th Feb 2021 .
The program commenced with flag hoisting, followed by Veda Parayanam and Bhajan. Welcome address was delivered by Sri.M.Srinivasan District President.
The Get Set activity was conducted by Ms. Sai Brundha, a Balvikas Alumnus and 1st Year MBA Student of Ananthapur Campus. Daily Spiritual Sadhana for constant connectivity with Bhagwan was explained by Sri, A. Hareesh, Balvikas Alumnus .
A brief talk on Balvikas Group 3 to Pre-sevadal to Sevadal Expansion of SSSO was delivered by Ms. Sri Yogeswari Sree, Balvikas Alumnus and Ananthapur Campus Student with Ms. Santhiya Balvikas Alumnus and latest Social Media to know about Bhagwan's missions by Sri Easwarmoorthi, Balvikas Old Student and Balavikas Guru . A short speech on Bhagwan's Guidance to Sevadal from time to time was delivered by Smt.Priya, Balvikas Alumnus.
The Get-Set activity session continued after lunch and was conducted by Sri.A.Hareesh followed by a speech by Ms.R.Santhasnalakshmi, Balvikas past student, on Prasanthi Seva importance and its significance. Sanctity of Scarf , Badge and Flag was explained by Smt.Madhuritha, Balvikas Alumnus.
The conclusion message was delivered by Sri.V Gurupradath, Balvikas Alumnus. Vote of Thanks was given by Smt.Bhaama, Zonal Service Coordinator, Mahilas
The Balavikas students of Group 3 passed out in 2020 from the District were awarded with the certificates by Smt.Lalitha Sivakumar, DEC.
After Mangala Aarthi, sweets and prasadham were distributed.
Total No.of Participants.73, Balvikas Alumni – 46, Sai Youth – 27 nos. and rest were Office bearers.
It was indeed a proud moment as the entire program was solely planned and executed by the Balavikas Alumni. Our heartfelt thanks to Bhagwan for giving us this golden opportunity.
JAI SAIRAM.
Sri M Srinivasan, District President, Tanjavur
email : saisrinivasan.kmb@gmail.com