Around 1500 Devotees from Erode district travelled by train/bus/car and attended Parthi Yatra from 16.6.2018 to 17.6.2018. Vedam chanting, Bhajan singing, Manasa Bhajore Guru Charanam Drama by sai youth (Gents), Devotional singing by Mahilas wing on were conducted. A Special Car Procession with Swami photo decorated took place outside Mandir from Sathya Bama temple to Main Ganesh Gate.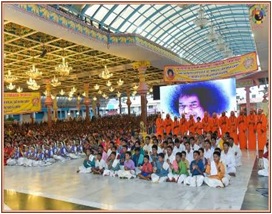 Special Music Concert held at Erode District in 3 location during last year. Beautiful mind blowing and soulful devotional songs in Hindustan/Carnatic and Sai bhajn rendered by the Ex-Alumni of Mirpur Music College, Puttaparthi. At each concert around 400 music lovers attended. Sri. Sai Prasad of Erode District cooridinated the programme very well and he was one of the excellent performer of all the musical concert.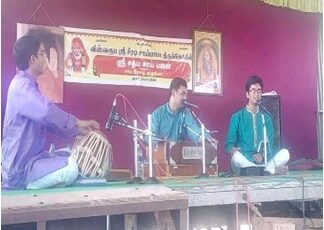 District level Bhajan Workshop held at East Samithi By our District bhajan Convenor and his team. More than 150 members attended and benefitted by the work shop. Narration done on Raga, Thala and Bhava very nicely by the experts. Due to intensive bhajan training, since past four Past Parthi Yatra, Erode lead singers were blessed to sing in front of Swami Maha Samathi, Sai Kulwant hall.
Regular Dolki/Tabla/Bhajan Training being conducted at East Samithi. Intensive Kanjira Training for interested learners conducted at Power House Bhajana Mandali for 5 Sundays.