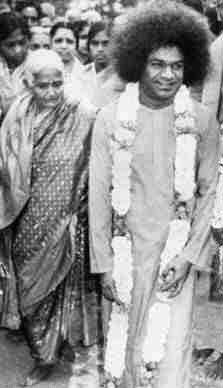 Aum Sri Sairam
Today, people desire that only their family and children should be happy. But Easwaramma was not like that. Easwaramma had a broad mind. She wanted everyone to be happy.
Sathya Sai Speaks, Vol. 34 Ch. 19, November 19, 2001
The three small wishes of  Mother Eswaramba paved the way for gigantic humanitarian projects all over the world.
Mother Easwaramma was very fond of children and was one of the pioneers of the Bal Vikas movement. Hence, this day is also celebrated as Balvikas Day or Children day.
Given below a synopsis of the Mother Eswaramba celebrations at some of the districts of Tamil Nadu
Coimbatore District- Service Activity
Sairam. On the occasion of Easwarama day, Sriram nagar Samithi of Coimbatore metro distributed masks, gloves, soaps and sanitizers to 70 sanitation workers.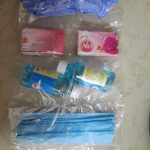 Madurai District -Service Activity
With the Divine Grace and Blessings of our beloved Bhagawan, As part of Mother Easwaramma day functions, Amirtha Kalasam kits were distributed to 50 beneficiaries today. All the beneficiaries are Archakas of small temples who had no income for the past two months. The kits were given through authorized representative – Chairman and Trustee of TAMBRAS.
மஞ்சள் பொடி – 50
உப்பு – 1
சீனி – 1
ப. அரிசி – 5
கடுகு – 100
சீரகம் – 50
கோ.மாவு – 1
க.பருப்பு – 500
து.பருப்பு – 1
உதயம் காபி – 200
பாசி பருப்பு – 250
ந.எண்ணெய் – 500
Each set cost Rs. 762/-.  Total number of sets distributed today = 50.
Madurai District – Balvikas Activity
Easwaramma day was celebrated today through Cisco WebEx meeting.  45 Children and Gurus participated. Proceedings commenced with Chanting of Medha Suktam, followed by an English song on Mother Easwaramma. Three children spoke about Mother, which was followed by three Bhajans on Easwaramma. The programme concluded with Mangala Aarathi to Bhagawan.
A guru putting into practice, the lessons learnt through the recently conducted Sanskrit class (online)
Vellore District- Service Activity
Sairam today on account of Easawarmba Day Celebrations, 30 Amrutha Kalasam kits were distributed to 30 Families at Ambur Adopted Village Sudaguta
Amrutha Kalasam :
Rice -5kg
Wheat flour -1/2kg
Rava -1/2kg
Sugar -1/2kg
Toor Dhall-1/2kg
Sunflower oil-1/2 L
Turmeric -50g
Cumin -50g
Mustard -50g
Sambar Powder -100g
Tamarind -100g
Biscuit -2 packets
Namakkal District – Balavikas Activity
Mother Easwaramma is the vital instrument, for the Lord to come into this world in human form, to implement His Avataric Mission. Commemorating the Mother Easwaramma day, 6th of May 2020, in Namakkal district of Tamilnadu, the Sri Sathya Sai Seva Organisation decided to fund 36 Balvikas students, each Rs 500, towards their academic expenses in the forthcoming new academic year. To accomplish this noble intention, a sum of Rs 18000 was handed over to the senior Guru of the region, Smt.V. Saradhambal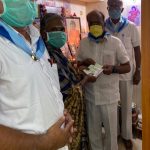 Salem district- Service activity
On account of Mother Eswaramba day celebrations, Amrutha kalasam kits of 12 essential grocery items with 5 kg rice each per kit, was handed over to 250 families