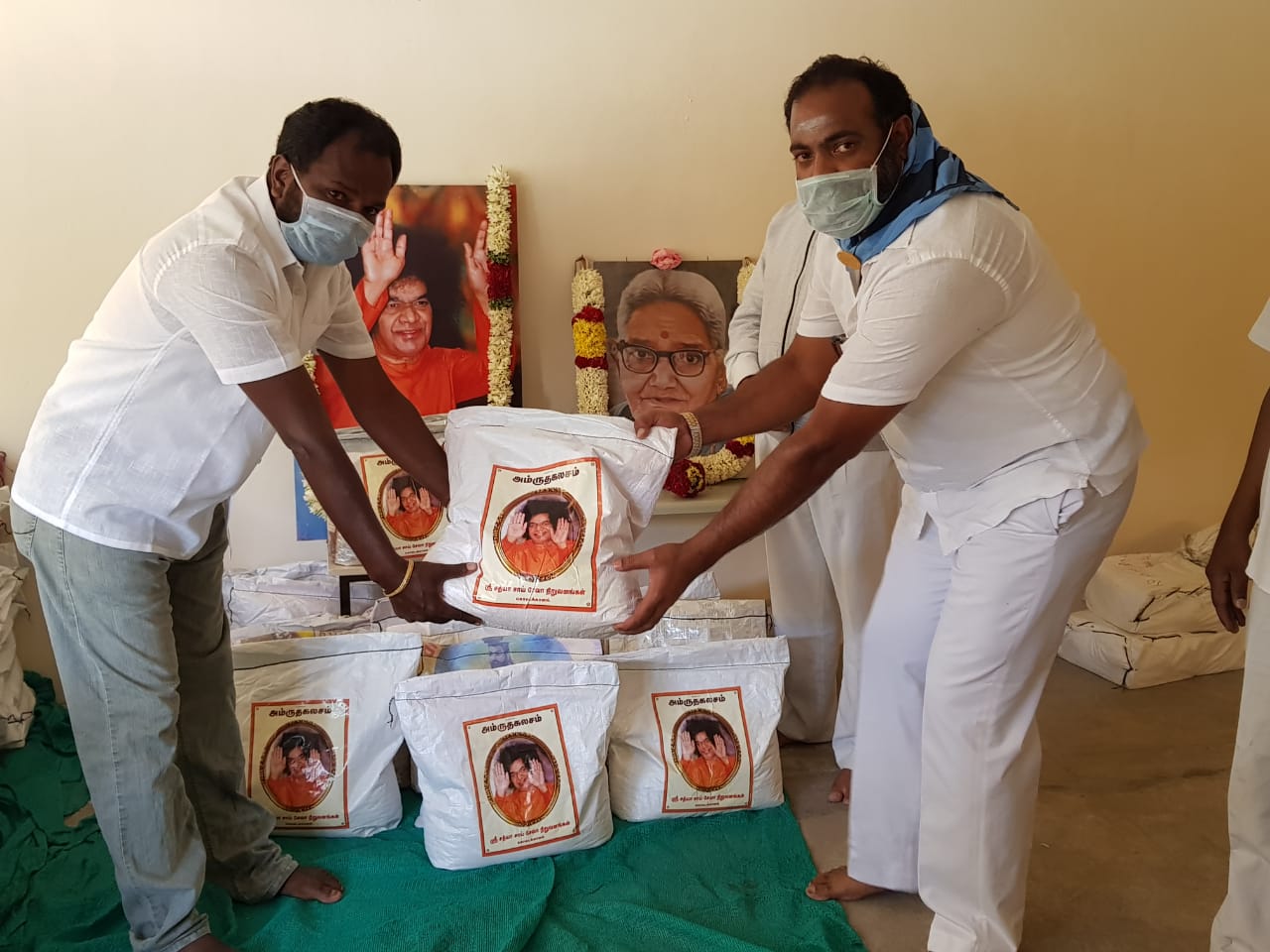 Aum Sri Sairam
Eswaramma Day Celebrations at Sai Sruti- Kodaikannal
With the immense grace of Bhagwan, Eswarama day celebrations at Sai Sruti- Kodaikannal started off with Omkaram and Suprabatham  followed by Poornahuthi of Gayatri Homam. This Gayatri Japa and Homam were regularly conducted since 26th March 2020 and concluded today on 6th May 2020. After the regular Bhajans at 09.30am the grand grama seva was flagged off.
During Bhagwan's physical visits to Kodai, He would instruct us to celebrate Eswaramma Day by offering Narayan Seva and by conducting Vastra Dhanam (distributing Blankets/ Dhothis and / or Sarees) to the beneficiaries. It used to be a Divine sight to watch thousands of beneficiaries' throng at Sai Sruti to receive this Prasadam from Bhagwan.
Keeping the tradition alive, this year too we had arranged to deliver the Amrutha Kalasam Kits containing essential grocery items that good enough for a family of four for fifteen days. This would help them to overcome their impoverished situation due to prolonged lock down.
The RDO of Kodaikanal Shri Shiva Kumar inaugurated the Amrutha Kalasam distribution, Thasildar Shri Wilson, Personal Assistant of RDO and media people were also present during the occasion.
Special vehicles were arranged by the government functionaries to transport these kits to various villages in and around Kodaikannal. The village heads, VAO and in some places even the local post master had joined the distribution team in identifying and distributing these kits to the deserving families.
More than 1000 families residing at Vilpatty, Paraipatty, Nattukavai, Pallangi, JJ Nagar,Machoor, Adukkam,  Kamarajapuram and Perungadu were the beneficiaries today.
We thank Bhagwan for having given us the opportunity to reach out to these needy families and celebrate Mother Eswaramma Day in a befitting manner.
Jai Sairam