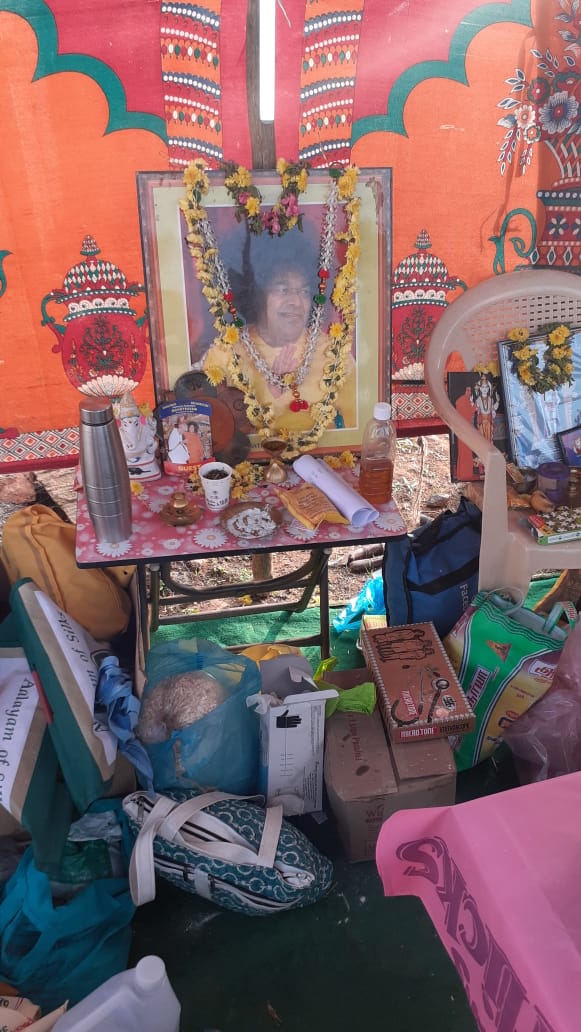 Aum Sri Sairam
Sairam with the Infinite Grace and Blessings of our Beloved Bhagawan, a Medical camp and Pada Seva to Pazhani Pada Yatra devotees commenced this morning, 24 Jan 2021, at Moola Chatram on Oddanchatram – Palani road.
This camp is being held for the 16th year continuously
  The devotees were scanned for fever symptoms and then sent inside the camp for leg massage with a specially prepared oil to relieve them of their pain.  Also blisters were cleaned, ointment applied and neatly bandaged.  The health inspector of the Area visited the site for inspection related to Covid protocols and was extremely happy with the arrangement made.
The combination of the special oil:
The base is coconut oil.
For one litre if coconut oil,
தேங்காய் எண்ணெய் 1 லிட்டர் (coconut oil)
ஓமம் 200 (carrom seeds)
பச்சைக் கற்பூரம் ₹ 20 (edible camphor)
இலுப்பை எண்ணெய் 300 (Butter Tree essential oil)
கடுகு எண்ணெய் 300 (mustard oil)
வேப்பை எண்ணெய் 300 (neem oil)
முடக்காத்தான் எலை அல்லது பொடி 1கிலோ (a kind of spinach)
தேன்னமரக்குடி, பிண்டத் தைலம், கற்பூராதி தைலம் ஒவ்வொன்றும் (thennamarakudi, Pinda Tailam, Karpoorathi Tailam each )
 100 ml were added and boiled. When the mixture boils, Swami's Vibhuthi is added, then the mixture is cooled and filtered.  Then Swami Sahasranama is performed and then this oil is used for massage.
It may be noted that Turpentine which gives skin problems
 is never used.
Jai Sairam
Sri Narayansamy Ramanathan, District President Madurai
Email: arenness@gmail.com