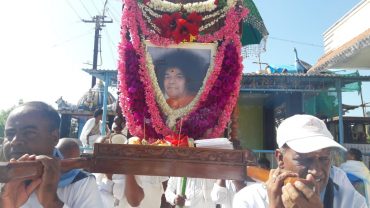 Aum Sri Sairam
Sairam. By the Grace of our beloved Swamy, a Ratha Yathra was performed on 15th March 2020 in 13 villages in Kundha Zone of Nilgiris District.
The program started with Gho Pooja followed by Bhajans, Nagarsankeerthan and Sathsangh.
Prasadam and Vasthram distributed in all villages.
On this joyous occasion, people participated from all the villages.
The program commenced at 9am and ended with Maha Mangala Arathy at 9.15 pm.
This was a great opportunity to spread the message of our beloved Swamy.
The concerned Police station was informed about our activities during Ratha Yathra well in advance in writing.
Sri H K Sundarraj, DP, Nilgiris District
Jai Sairam.
Helpline & feedback : admin@ssssotn.org