Date: 24-June-2018
Day: Sunday
Time: 08:30 AM to 04:30 PM
Venue: Sita devi Garodia Hindu Vidhyalaya, No.2,Kalamegam Street, Tambaram East, Chennai-600059
Participation
National Office Bearers:
Gents
Shri.N.Ramani,National Vice President, SSSSO(India), and Convenor, SSS Trust, TamilNadu.
Shri.K.M.Rao,National RVTC Coordinator, SSSSO(India)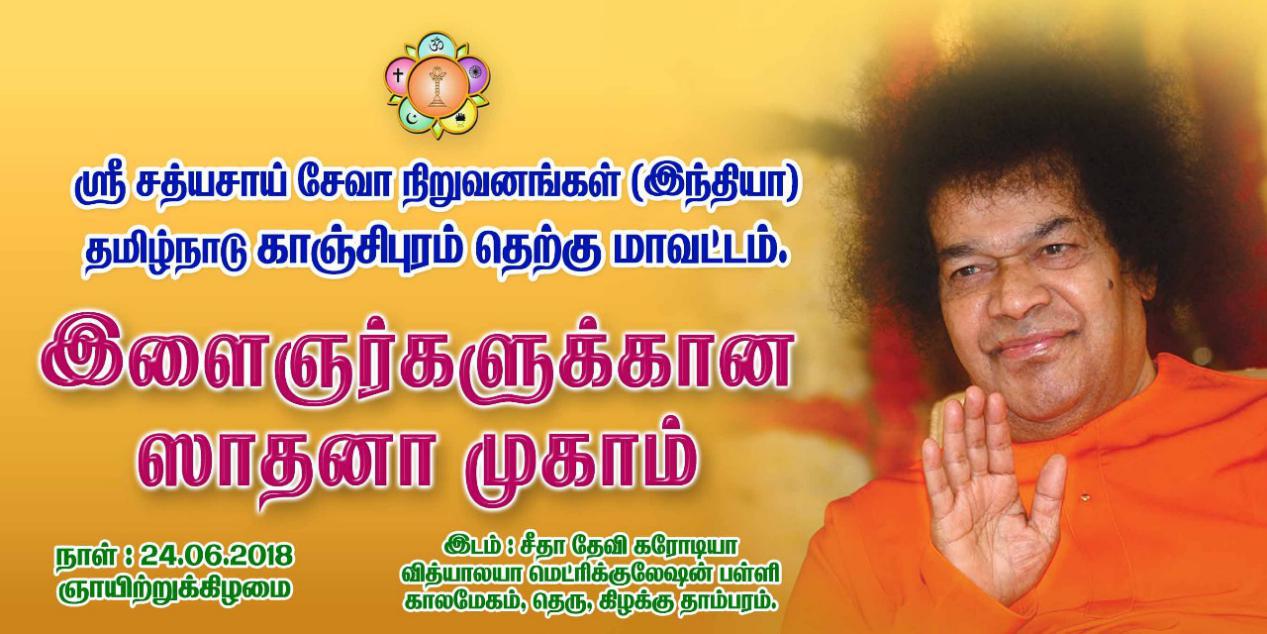 State Office Bearers
Gents
Shri.Vijayakrishnan,State Youth Leader
Shri.V.Ramakrishna,State RVTC Coordinator
Shri.Vijayakumar,State Books and Publications Coordinator
Shri.A.Gunasekaran,State Medical Activity Coordinator
Shri.Prasanna,State SSSVJ Coordinator
Kanchipuram South District Office Bearers attended this Sadhana Camp and Blood donation drive which was conducted in parallel.
Guest Speaker:
1.Dr.M.Gopal,Senior Professor Mechanical Engineering, SRM University
Participation in Youth Sadhan Camp:
No.Of Office bearers : 14
No.Of Gents : 66
No.Of Mahilas : 79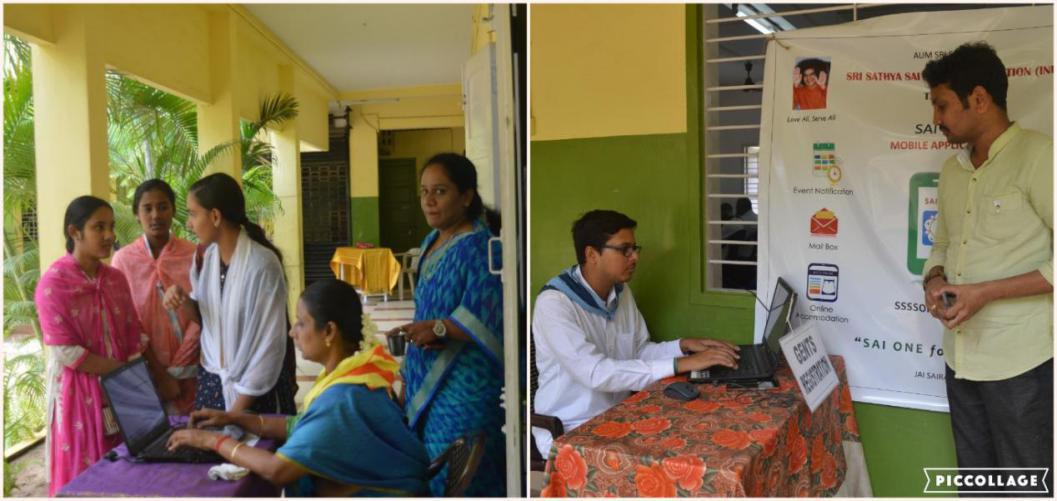 About the Programme:
This is a Sadhana Camp conducted exclusively for Youth of all the Samithies and also for all office bearers of our district. This camp aims at rejuvenating the practice of first 3 points of 9 Point Code of Conduct laid down by our Beloved Bhagawan Baba for each and every member of the organization.
This was a platform for youth brothers and sisters to compere and present PPT slides on 9 Point Code of Conduct. Many other youths also got opportunity to speak in this big event for the first time making it memorable for them.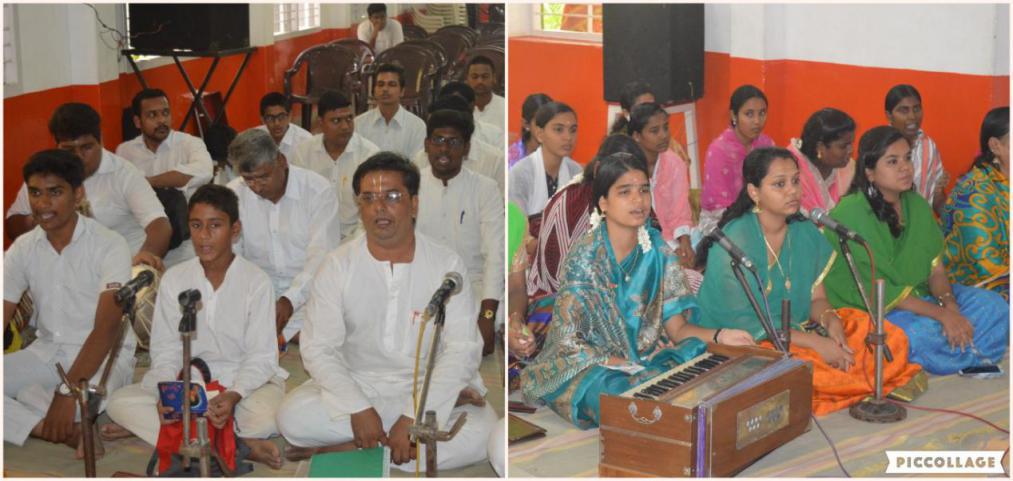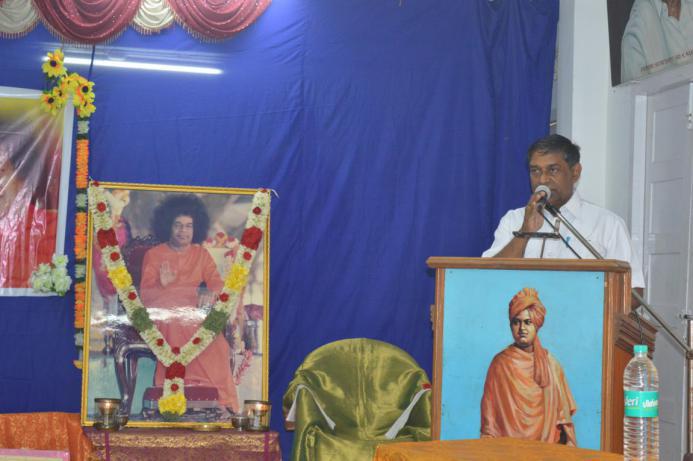 Welcome address by District President
Welcome address was given by Shri.Sankaranarayanan, DP – Kanchipuram South. He introduced our National Vice President, State Youth Coordinator, State RVTC Coordinator and Shri. Krishnamoorthy, AlumnusofSSSIHL,and all other dignitaries to all the new youth members present at the camp.
Keynote address by Shri.N.Ramani, National Vice President
Shri.N.Ramani, addressed the youth and new comers by introducing the Sai avatar by explaining other religions' history and the formation of Sri Sathya Sai Organization. He insisted that every member of this organization is also an office-bearer.
He also explained on surrender to our lord and its importance. Along with that constant practice of Love All and Server All, which has to be followed for a lifetime, will surely save us in the last moments.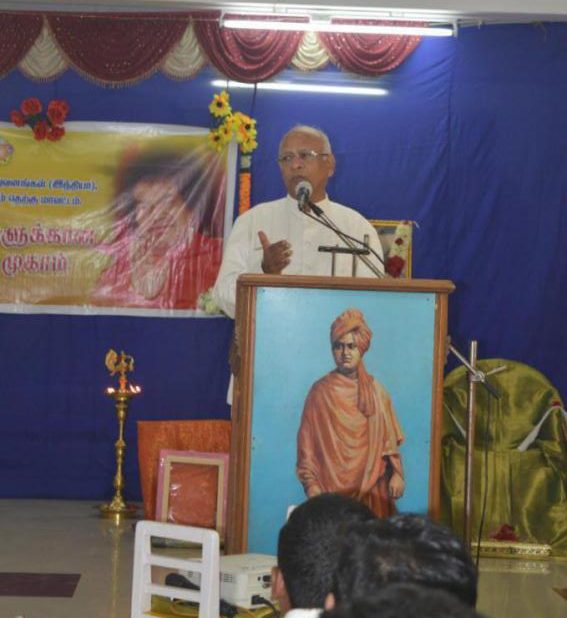 Address to the youth by Shri.Vijayakrishnan, State Youth Coordinator
Shri.Vijayakrishnan addressed the youth on the importance of good thoughts and deeds and also its consistency to maintain the same. Practice of this will surely make us dear to our lord. He explained his experiences with Swami in Trayee Sessions, which includes, giving our dirty mind to the Dhothi(Swami) and keep it clean.
He frequently explained that we have the grace of God with us always. But we have to invoke it by constant practice of any Sadhana laid out your swami.
He also explained with an analogy of Mobile phone, saying as we charge our phone daily and look after the messages in social communicators, similarly we have to change our mind spiritually and constantly look for Swami inside us and communicate with him.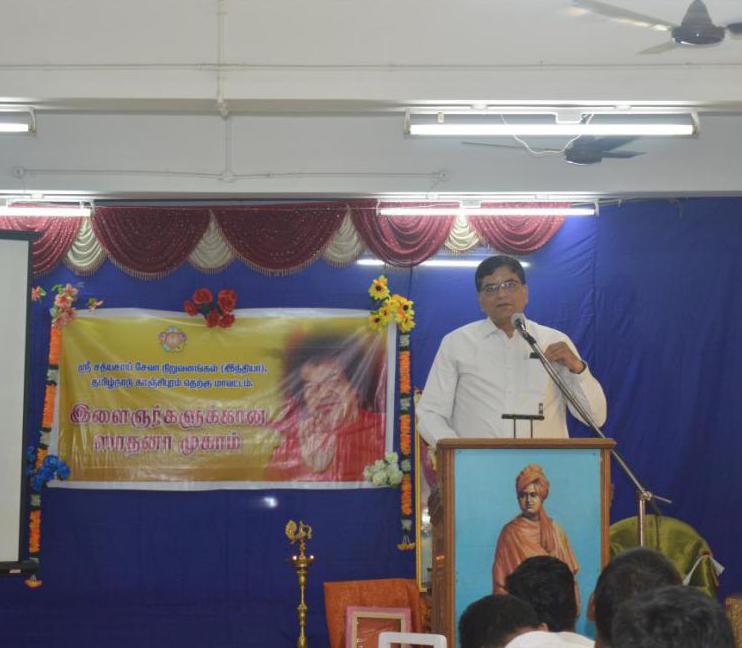 Rural Vocational Training (RVTC) by Shri.K.M.RaoandShri.Ramakrishna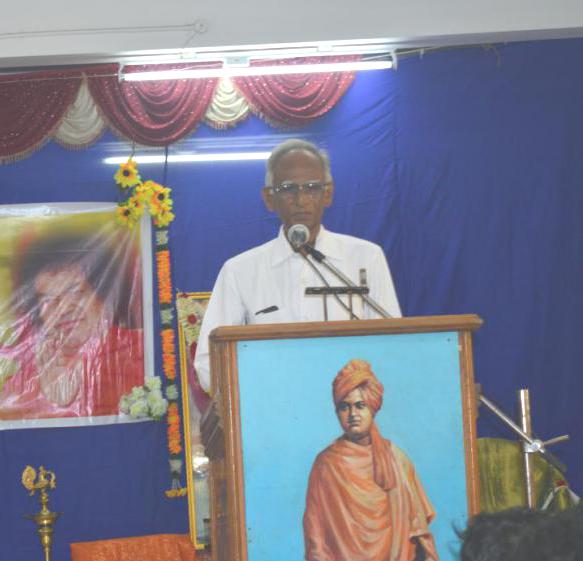 Shri.K.M.Rao and Shri.Ramakrishna, elaborated on the inception of RVTC concept and its presence of training centers all over India. Importance of RVTC was explained. This programme aims at imparting the knowledge of the following skills and practice.
Plumbing
Electrical installation at home
Machine dismandling and assembling
This programme is 80% practical sessions and 20% theory sessions.
He also listed various facilities in Tamil Nadu and insisted many youths to make use of this opportunity to enroll the school and college dropouts for their bright and better career.
RVTC on Automobile Engineering, by Prof.M.Gopal, SRM University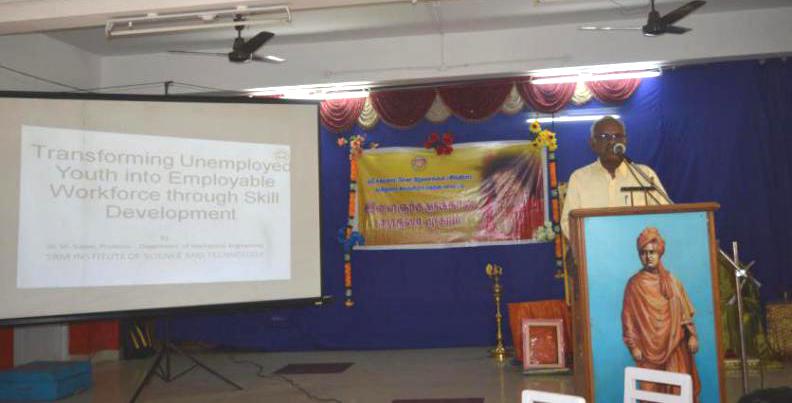 Prof.Gopal, gave a short speech on his rich career spanning more than 20 years. He served as HOD in Mechanical Engineering in SRM college and now serves as a Director even after retirement age. He continues to inspire many young mechanical engineers to kick start their careers in specializing certain key areas.
He wanted to collaborate with our Seva organization to impart skills to the students which the industry requires. He also laid out a plan on integrating with Industry giants on placement and training.
Framework he proposed have three participants and they are listed below.
Sri Sathya Sai Seva Organization
SRM University
Industry
He is giving training to deserved youth in automobile engineering at SRM laboratory free of cost. He also insisted the importance in specialization in particular fields and start a career in that field of your choice, for a successful career.
Presentation on 9 Point Code of Conduct
Allotment of Codes to Samithies
S.No
Code Of Conduct
Samithies In-charge
1
Daily meditation and prayer
Japam - Poondy Bazaar
Dhyanam -Kanchipuram
2
Devotional singing/prayer with family members once per week
Perungalathur
3
Participation in Sai Spiritual Education by children of the family - Balavikas
Tambaram
Importance of Silent sitting, Japam, Meditation, its purpose were described in detail. Swami's method on concentration, contemplation and meditation were described. Practical illustration on concentration on a flower was demonstrated. Also a practical illustration of singing with tune of a "Rama Naama", was demonstrated.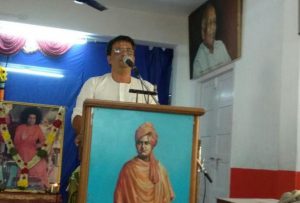 Veda Chanting and its benefits were explained by our District Veda Coordinator Shri.Vijayaraghavan. Importance of Veda chanting style along with understanding its meaning is explained. Various ways of learning Veda is also explained.
Devotional singing/prayer with family members once per
week
Importance of Bhajan in relation to Japam
Swami's first bhajan and its importance
Various types of Sankeerthanam and importance of "Sai
Bhajan"
Family members' involvement in Bhajan and benefits
derived
Good vibrations derived with observation it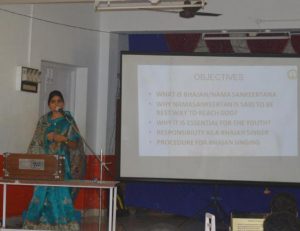 Participation in Sai Spiritual Education by children of the family – Balavikas
Origin of Balavikas, its inception, its way of practice
Importance laid on it by Swami
Various methodologies involved in Balavikas (activities, play, stories, individual Sadhana, etc.,)
Importance of Human values
Five teaching techniques
Role of a Balavikas Guru
Various ways to improve the students' strength of
Balavikas center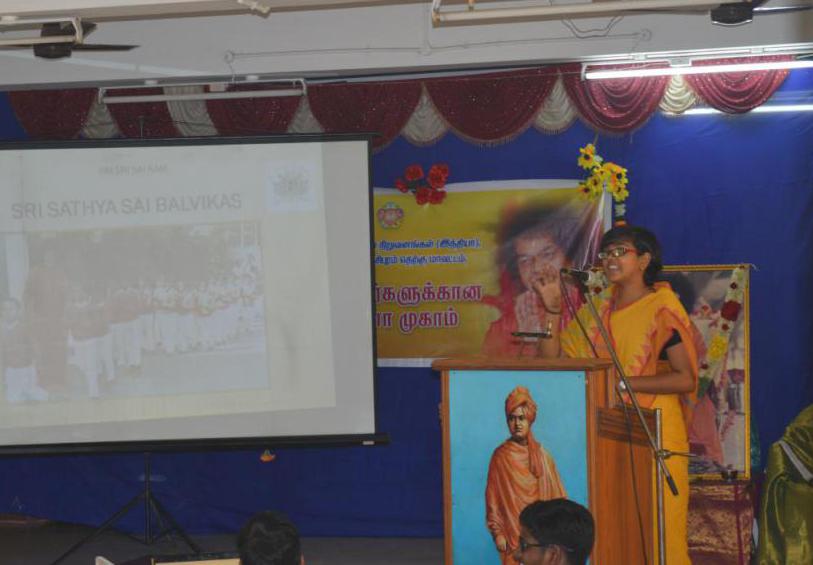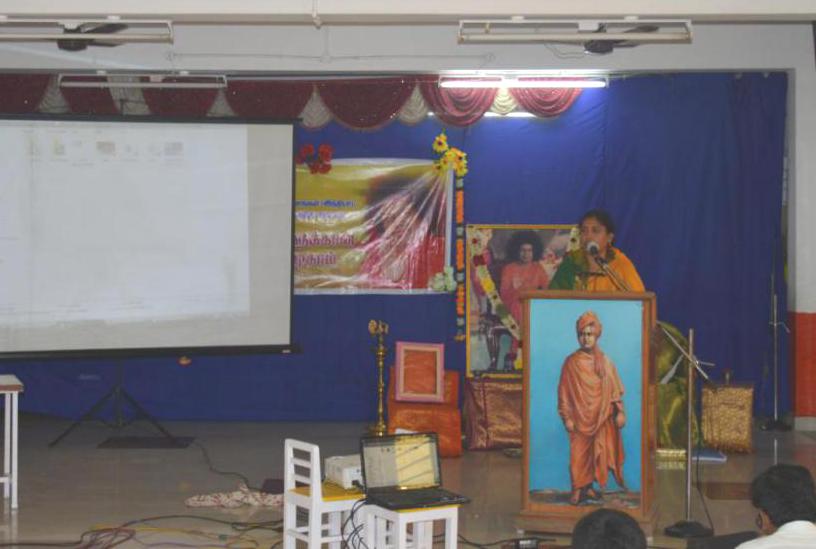 Speech by Ms.Santhanalakshmi, Alumus of SSSIHL Anantapur
Ms.Santhanalakshmi alumnus of Sri Sathya Sai Institute of Higher Learning from Anantapur campus addressed the youth members present there to follow the guidelines laid out by our Swami. Point on "You do My work, I will do your work", was explained to the youth present at the venue
Speech by Shri.Krishnamurthy, Alumus of SSSIHL Prashnathi Nilayam
Shri.Krishnamurthy delivered a lively speech on his experiences with Swami to all the youth members present at the venue. His speech was a mixture of narration of his own experience, hardship travel in his life, his achievement and interactions with Swami, and also on the way we should conduct ourselves in the world. He jovially narrated his team's experience in staging a audio visual drama at the Divine presence few years back. He also included
that we should have faith in Swami at any time and be a good sevadal
in this organization. He said that, be it a rich stone favoured by rich families, or a nornal stone which is found everywhere, we have to be a good and great stone which is chiseled and developed by our Balvikas gurus of this organization.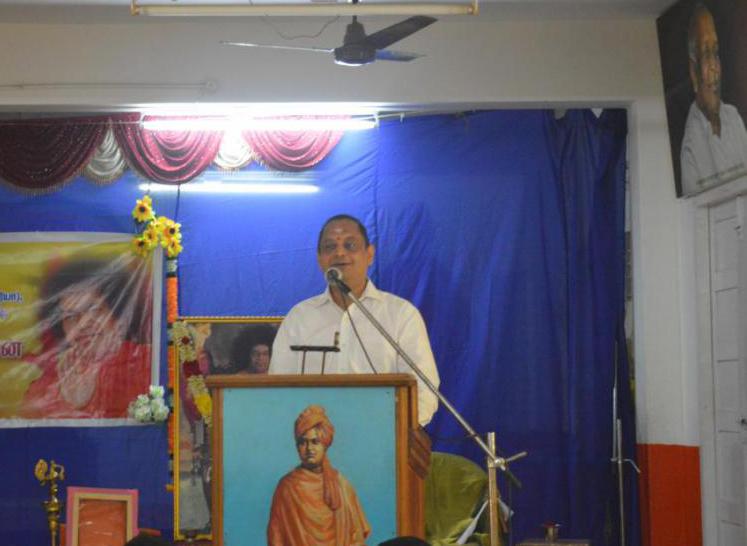 Green Initiative -> "Avoiding Plastics"
Also to follow what we preach, no plastic cups and plates were used in the programme for any purpose. Instead Stainless steel cups and plates with plantain leaves were used for serving. Gunny bags were used instead of plastic bags for removing wastes. To avoid plastic folders for invitations, thick cards were used.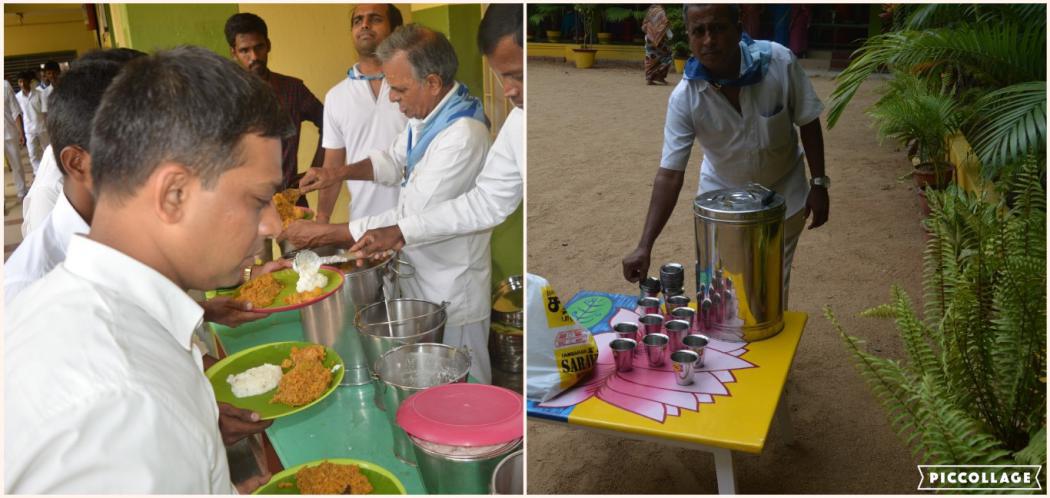 Vote of Thanks
Shri.A.T.Murali, our District Youth Leader (Gents), summarized briefly on this programme and its importance. Also he mentioned about the speakers today and asked the youth present there, to maintain the same vigor
acquired today to do Seva in our organization. He thanked Bhagawan for making this a grand success. Sadhana sheet was distributed to all the
members present at the venue to use on a daily basis and report the same in the next meeting. He also listed the next steps of this youth meeting, mentioning the months of followup meetings for the next 6 points in the 9 Point Code of Conduct, laid out by our Beloved Swami.