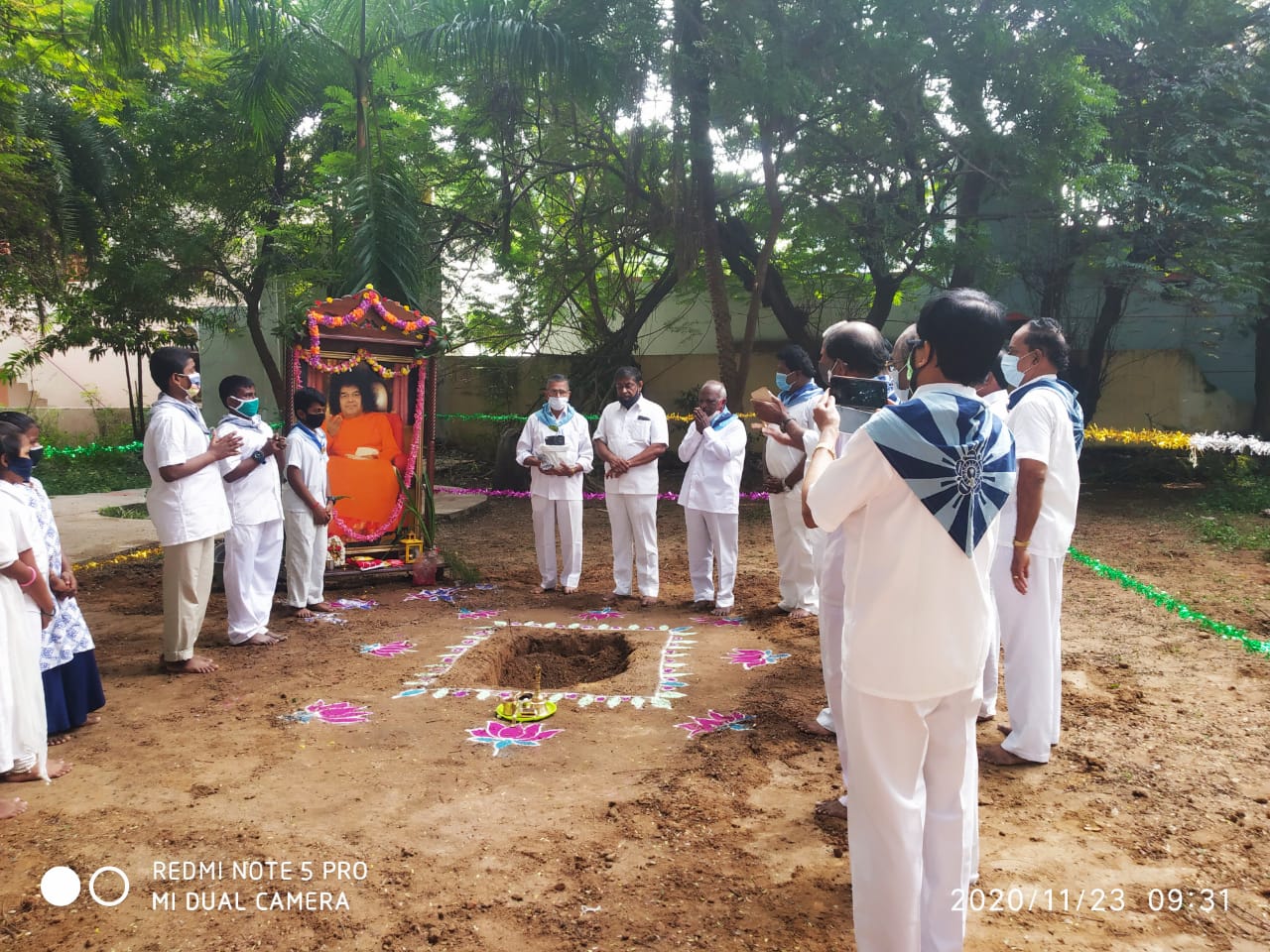 Aum Sri Sairam
Sairam, following activities done at Kanchi South Samithies on the occation of  95th Birthday of our Swami
Collectorate Samithi
Amirtha Kalasam kits and bedsheets distributed to most deserving 60 Irullar families.
Dhyana (Vata) Vruksham sapling planted at Ellappa Nagar Park, Kanchipuram.
Silver vessels & pooja articles given away to a poor girl for her marriage and cash assistance to a needy student for education was given.
Sriperumpudur Samithi
Narayana Seva to 140 deserving persons and Amrutha Kalasam was distributed.
Special Bhajan (virtual ) was conducted in the evening.
Perungalatur Samithi
Distributed 80 bedsheets and Divya prasadam to 80 municipal Sanitary workers
Tambaram samithi
Dhyana Vruksham sapling planted at adopted village Arambakkam garden premises  and vastram  disrtributed  to the Arambakkam people
Chengalpattu Samithi
Narayana Seva done at Thirupadagiri, Anbu Thondu Nilayam, Magimai illam, Venkatapuram home, Mukteeswarar temple, Athur.
Guduvanchery Samithi
Amirtha Kalasam kits with bedsheet, towel and prasadam distributed to 40 Irular families
100 bedsheets and prasadam given to 100 people at Oxford old aged home
Narayana seva (Lunch) for 120 Irular colony people
Mannivakkam Samithi
Narayana seva for 300 people
Dhyana Vruksham sapling planted at the designated venue
Vastra danam for 20 handicapped people in a home
Poondi Bazaar Samithi
Amirtha Kalasam kits distributed to 17 families
Provision items and fruits given in a nearby old age home.
Vastra danam (sarees) given to 17 ladies along with prasadam.
Madambakkam Samithi
Rice bag along with sweets given to a nearby old age home
Parvati Nagar Samithi
Distributed Amirtha Kalasam kits, Blankets, Sweets to 23 families at Serapanancherry and few more families at Karasangal.
Maraimalai Nagar Samithi
Provision items worth Rs. 10000/- given to Oxford Aged Home
We have given away 50 litre capacity water heater to a Veda Pata Shala, benefitting the Pata Shala students.
Main Kanchi Samithi
Narayana Seva for 150 people, bedsheets and sweets distributed to 20 Irular families
Irumbuliyur Samithi
Narayana Seva to 85 beneficiaries in a nearby fisheries huts, building construction workers and Sanitary workers.
Little Kancheepuram Samithi.
Food packet distribution at 13 locations for 2620 beneficiaries
1. Varatharaja Perumal temple. 200 packets.
2. Moongil madapam.200 Packets.
3.Orrikkai bhjanamanadalli 160 Packets.
4. Thiruveethipallam Bhajanamanadlli 160 Packets.
5. Government hospital Entrance Gate 250 Packets.
6. Dharga Kancheepuram 250 Packets.
Near by Village.
1. Ekkannam pettai. 200 packets.
2. Karruku pettai. 200 packets.
3.Anjur Village. 200 Packets.
4.Koyappakkam. 200 Packets.
5.Walajabath. 200 packets.
6. Thenneri. 200 Packets.
7. Thiruvarankarai. 200 packets.
Jai Sairam
Contact: Sri SankaraNarayanan. N, District President, Kanchi South
Email: durasign@yahoo.co.in