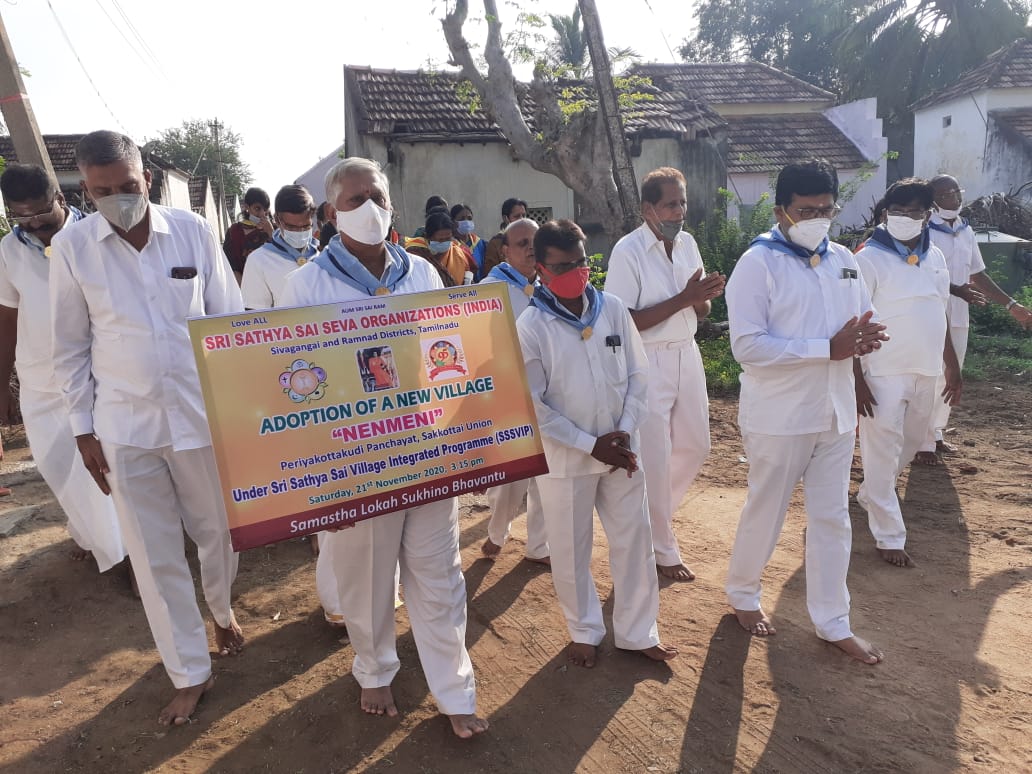 Aum Sri Sairam
Activities on our beloved Bhagawan Sri Sathya Sai Baba varu's 95th Birthday at Sivaganga & Ramnad District, Tamil Nadu
Inauguration of Sri Sathya Sai Bhajan Mandalai Thiruppathur
With the infinite Grace and Blessings of Bhagavan Sri Sathya Sai Baba a new Sathya Sai Bhajan Mandali at Thiruppathur was declared open on 21st November 2020.
The day's event began with  Nagara sankeerthanam from the nearest Ganapathy Temple carrying the Name Board of the Bhajan Mandali.  Shri. R. Narayanasamy District President SSSSO(I), Madurai TN inaugurated the Sri Sathya Sai Bhajan Mandalai by cutting the ceremonial ribbon and unveiling the Name Board of new Bhajan Mandali. He proceeded with a brief narration on the nine codes of conduct.  Shri Swaminathan D.P (SSSSO(I) of Sivaganga and Ramnad District addressed the members of the new Bhajan Mandalali.  Devotees from Karaikudi Samithi and Thiruppathur Town were in attendance for this auspicious occasion.
Vata Viruksham Sapling
Sairam. With the Divine Blessings of our Beloved Bhagavan, the first two Vata Viruksham saplings were planted at 'NENMENI' – a village adopted by Karaikudi Samithi, Sivaganga District.
The Saplings were taken from the adopted village's Mariamman Temple.  The procession encompassed the chanting of vedas and SAI GAYATHRI.
Vibhuthi, Kunkumam and flowers were sprinkled in the pit.  It was subsequently covered with sand and the Holy Vata Vruksham sapling was planted on top of it while chanting Sai Gayathri and Guru slokhas. After sprinkling  vibhuthi, Kunkumam and flowers, the pit was covered.  This was repeated for all the saplings that were to be planted.
Village Adoption
With immense Grace and Blessing of our Beloved Bhagawan a new village that is "NENMENI", Periakottakudi Panchayat, Karaikudi Taluk was adopted by Karaikudi samithi under SSSVIP.
The Function was held on 21st November 2020.  Our State Coordinator for SSSVIP, Shri. A. Ramesh unveiled the name board for adoption.  Shri. R. Narayanasamy, DP SSSSO(I), Madurai district and the president of the Village Shri. Dhanapal, Karaikudi Samithi Convener Shri.RM. Thirunavukarasu participated along with other samithi members.  Shri. R. Swaminathan, DP SSSSO(I) of Sivaganga and Ramnad district  welcomed the Villagers into our Bhagawans fold with open and endearing arms. In an earlier ceremony, the villagers welcomed all the members from Sai samithi and the special guest in their own way by offering Poornakumbham to our beloved Bhagawan.
Narayana seva was offered to all members of the village.  More than hundred biscuit packets were distributed to the villagers. Vasthira seva to 60 families containing saree, Dhothi and towels were offered.
All the above three activities offered at the Lotus Feet of our beloved Bhagawan for His blessings
Jai Sairam
Dr. Swaminathan, District President, Sivaganga & Ramnad Distict
Email: swaminathanmath@gmail.com