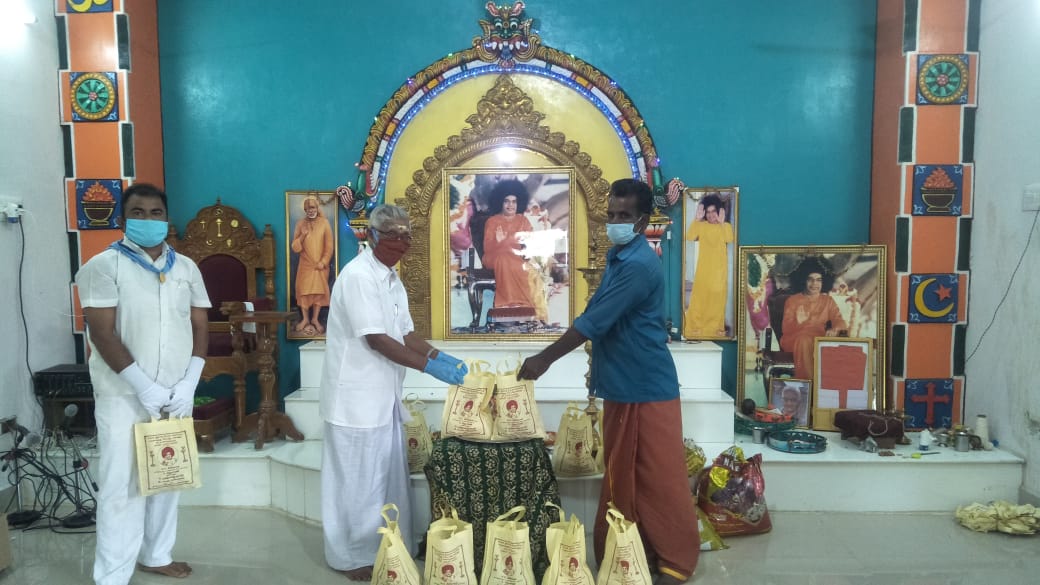 Aum Sri Sairam
SRI SATHYA SAI SEVA ORGANISATIONS – VIRUDHUNAGAR DISTRICT
SERVICE WING REPORT
Sairam, with the Divine Grace and Blessings of our Beloved Bhagavan, we performed the  following service activities in Virudhunagar District during the Lockdown period ( April & May 2020 ) adhering to the instructions laid down by SSSSO. The details are given below:
1) Psychiatric Camp
Due to the Lockdown situation, the
250
 patients of Psychiatric camp have been delivered  periodic medicine at their doorstep with the prescription and guidance of their doctors. Amrutha Kalasam kits were also distributed to 
96
 needy families of of psychiatric patients
2) Amrutha Kalasam
From 20.04.2020 to 04.06.2020, a total number of 864 kits of
Amrutha Kalasam
have been distributed to the needy families through these Samithis .
On the Aradhana Mahotsav Day on 24.04.2020, a total number of 250 kits of
Amirtha Kalasam
were distributed in the entire Virudhunagar District.
3) Community Kitchen
From
17.04.2020 to 04.06.2020
, the Community Kitchen was conducted  by Srivilliputtur Samithi. At that period, a total number of
16270 food packets
,
3390
numbers of
water bottles
,
Kaba Sura Kudineer
–
24000
people, ( for 21 days continuously) and
20311 Face Masks
were distributed to the needy people through the Government officials and the local Panchayat Heads .
Jai Sairam.
Sri Suresh  R, District President, Virudhunagar
Email: saisureshraja@gmail.com