---
District President: Sri Sivasubramanium S
Email: ssssivasubramanian@gmail.com
AUM SRI SAIRAM
---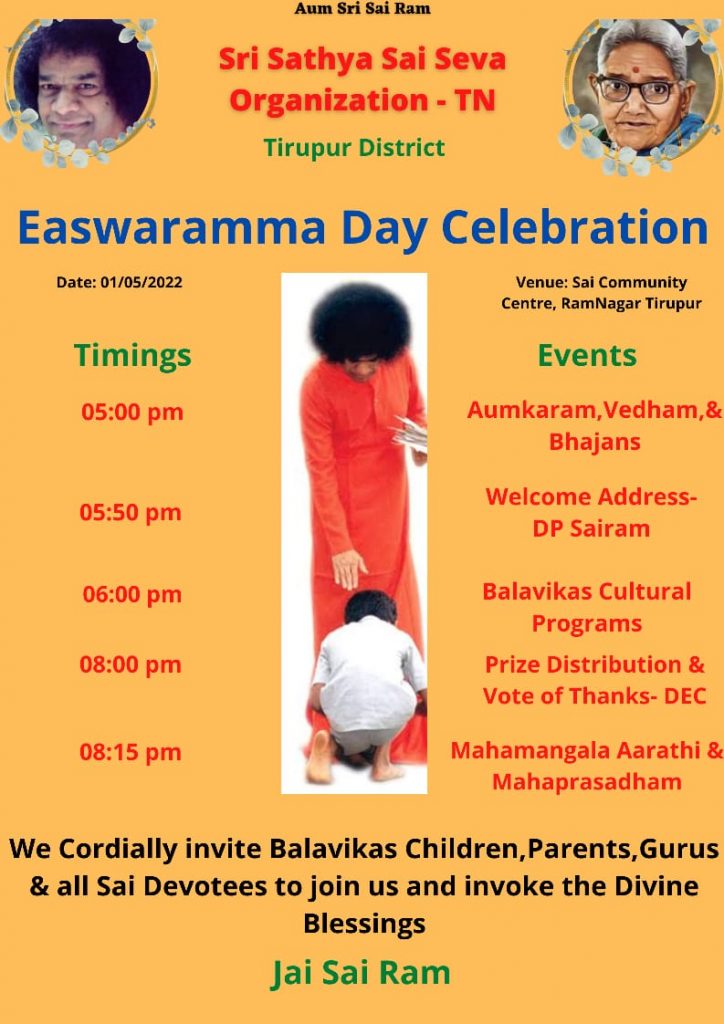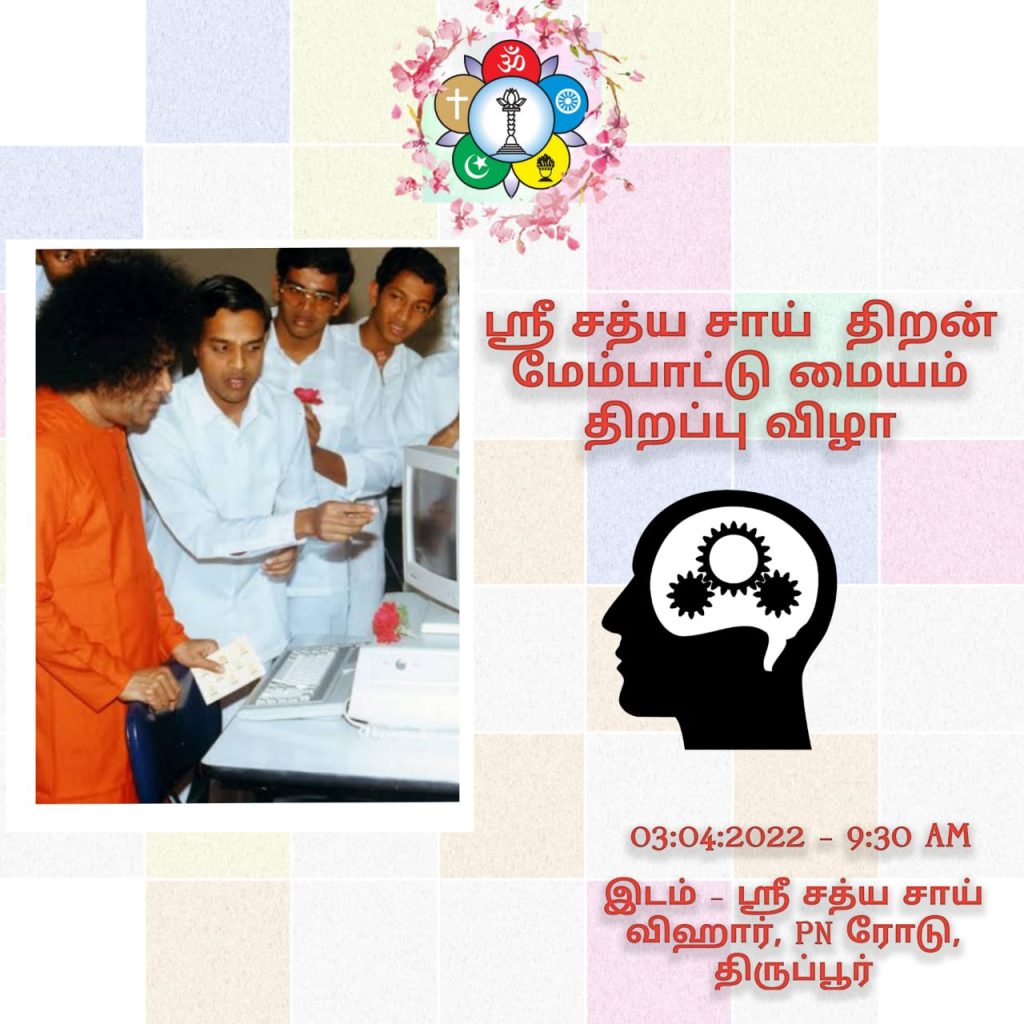 Sai Ram. With the grace and blessings of our beloved Swami, Sri Sathya Sai Skill Development Centre was inaugurated in presence of office bearers and members at Tirupur, Ram nagar Mandir.
The first batch is expected to start by next week. Beneficiaries and trainers have been identified.
Sai Ram.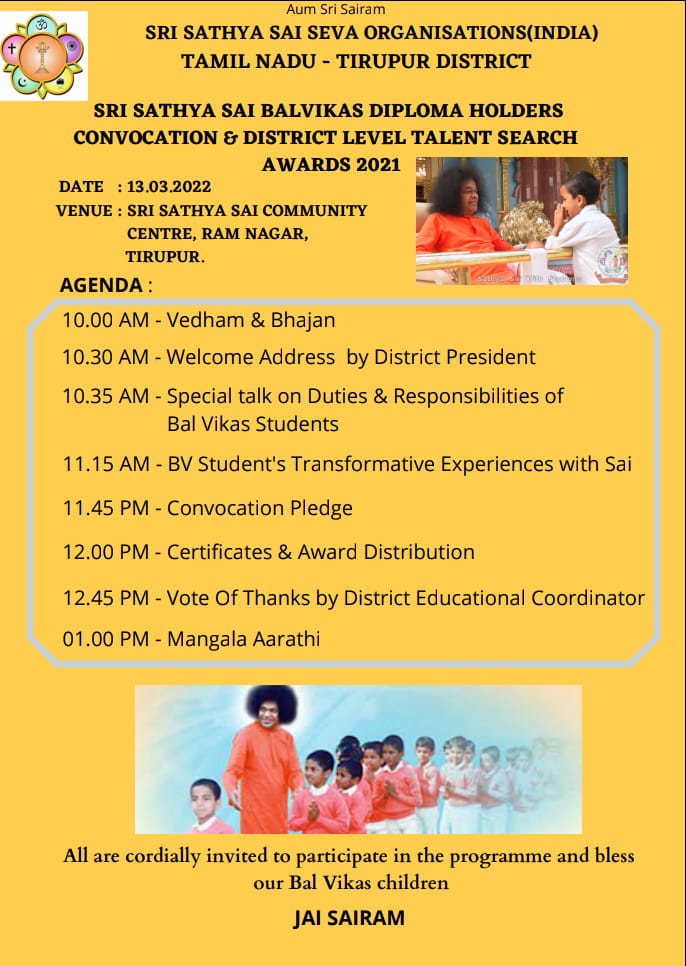 Aum Sri Sairam With the divine blessings of our Beloved Baba the Convocation ceremony for Sri Sathya Sai Balvikas Diploma holders and District Level Talent Search Awards has been successfully conducted at Sri Sathya Sai Community Centre, Ram Nagar, Tirupur on 13.03.2022.
Around 110 members consisting of Balvikas children, Gurus and parents eagerly participated in the event.
Thank you..
Jai Sairam
Narayana Seva at Karamadai Car Festival
Sairam on 18 Feb 2022, We Distributed 800 Food Packets to Karamadai Car Festival. Mettupalayam Both Samithies and Veerapandi Samithi.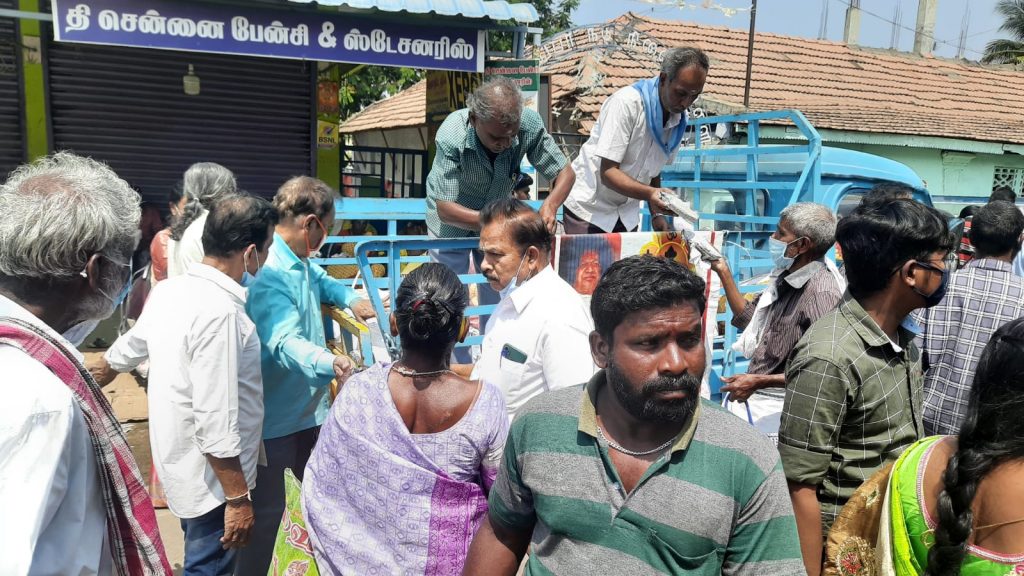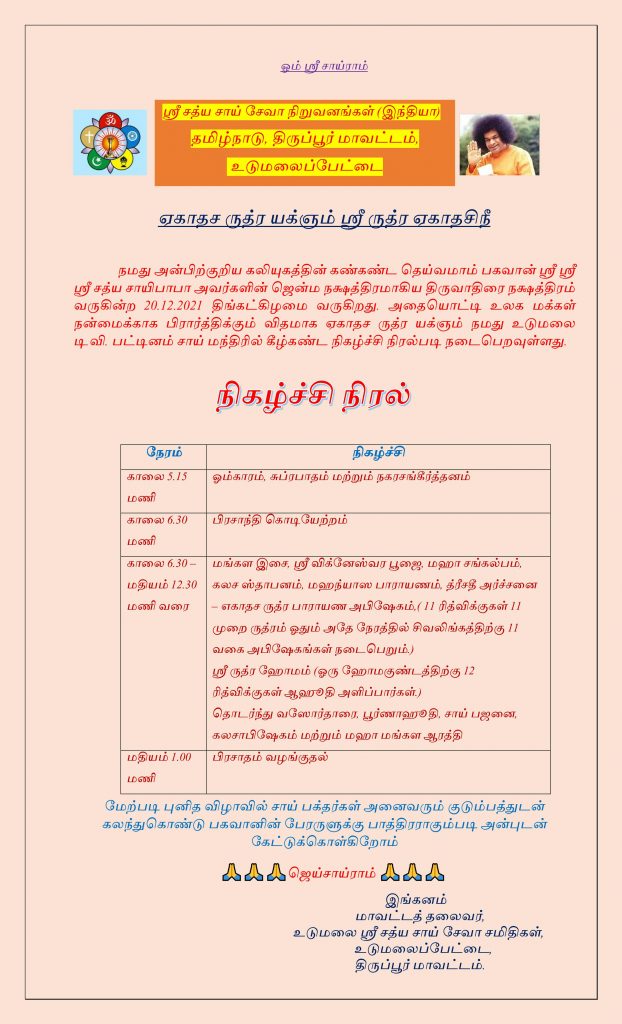 BHAGAWAN SRI SATHYA SAI BABA 96TH BIRTHDAY CELEBRATIONS
Aum Sri Sairam
With Divine's blessings, In our Tirupur District we are happy to inform that the Swami's 96th Birthday was celebrated gracefully at Pollachi, Mettupalayam, Udumalpet and Tirupur.
The special events and the service activities happened are as follows :
Tirupur
19/11/21:
Ligithajapam
Study Circle on the topic "The Gayatri Mantra"
Glass Painting Session
20/11/21 :
Sahasarama parayanam by BV Gurus
Bhajans
Cultural Events by BV Children
21/11/21 :
Blood Donation Camp :
Donated By – 35 Members
22/11/21 :
Visited Siva Sharmila Oldage Home and Distrubuted the Grocery items for them
23/11/21 :
Narayana Seva – For 3500 people belonging to Mannur Village, Vijayapuram, Pon Muthunagar, Ram Nagar
Special Talk on the topic "The Sri Sathya Sai Avatar" By Mr.M.Shesharaj,Cbe
Pollachi
18/11/21:
Vishnu Sahasranama Parayanam
Sathya Narayana Pooja
19/11/21:
Abirami Andaadhi Paarayanam
Thruvilaaku Poojai
20/11/21:
Sri Sathya Sai Family Satsang
21/11/21:
96 Special Bhajans at Kotturmalaiandipattinam Samithi
22/11/21:
Divine Musical evening Performance by Kottur Somandurai Chithoor Mr.Jayaprakash Sathyanarayanan
23/11/21:
Narayana Seva – 550
Udumalpet
23/11/21:
Narayana Seva – 700
Vastra Dhanam – 100
Special Talk on "The Glory of the Avatar – Sri Sathya Sai Baba" by Mrs.Selvi.M
Mettupalayam
23/11/21 :
Narayana Seva – 100
Vastara Dhanam – For 50 Tribal people at Vivekanandar kudhil, Thimmambaadi.
Evening 96 Special Bhajans
Further Swami's Birthday celebrations began with Omkaaram, Subrabaatham, Nagarasankeerthanam, Homams, veda parayanam, Cake cutting ceremony, Jhoola and Mangala Aarathi at all the places.
Thankyou
Jai Sairam
Navarathiri – Day 2 celebration
Sairam, With Swami's grace on 7/10/21 evening 5pm to 7pm at Ram Nagar mandir – Tiruppur, Navarathiri – Day 2 celebration went on well with Lalitha Sahasranama parayanam, Astothra parayanam, bhajan followed by a speech about Navarathiri by Mrs.Prema sairam.
Nearly 15 balvikas gurus participated along with 40 sai members. Jai sairam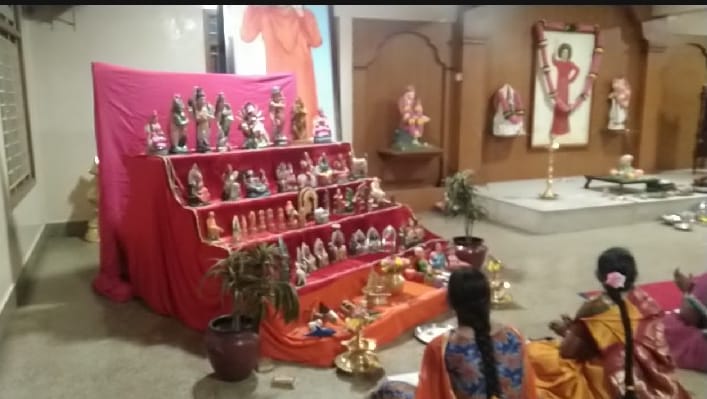 Tirupur District
Sairam with the blessings of Swami Covid vaccine camp currently in progress for 150 sevadals and general public in Tirupur city at Sri Sathya Sai Mandir, Tirupur (18-44 category 78 nos, above 45 category 72 nos ) . The above camp organized with the support of Sri. Sridharan Kilkatalai convenor sairam .
Sri Sivasubramanium S, District President, Tirupur District