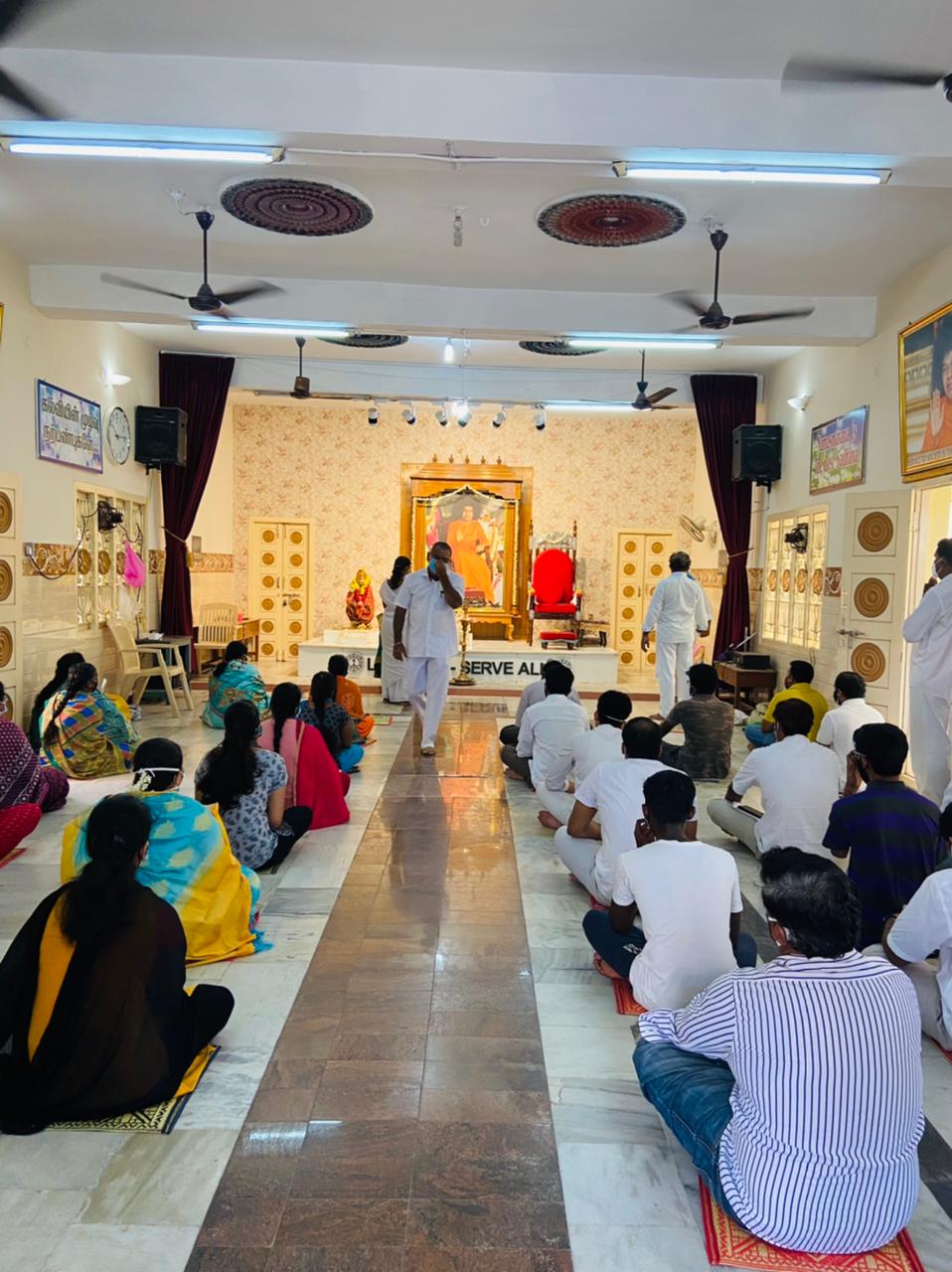 Aum Sri Sairam
Chennai Metro North
With the blessings of our Beloved Bhagwan, on 31/05/21 we, Chennai North District Sathya Sai Seva Organisations, conducted a Vaccination camp at Our Sathya Sai Nivas Perambur divine abode at Perambur with the great support of Greater Chennai Corporation Senior Officers and Health Officer of our Zone and the Medical Team, for the age group 45 years and above, exclusively for our Sevadals – Front line Workers involved in the Sri Sathya Sai Amudham Service, who are involved in this seva from the May 6th, 2021 delivering food to door steps of the Home Quartined Covid -19 patient families..
We were trying for this camp for the last 15 days, but did not materialise due to some or other reasons. But Swamy paved the way through our State President Shri. S.R. Chandra Sekar Sairam and got connected with Shri. K.P. Sai Sredhar sairam, and within a day's time camp got organised.

About 40 sevadals got vaccinated and around 20 couldn't get a second dose due to 84days time schedule.

We cleaned Sai Nivas and disinfected the entire campus and started the camp with 3 omkar and offered Mangala Aarthi & pranams at the Lotus feet.
We distributed masks & Hand Sanitizers to the Greater Chennai Corporation team members and also to all the Sevadals.

Everyone was provided with juice and water bottles. Entire team appreciated the peaceful and blissful atmosphere. During the camp, Greater Chennai Corporation Zone-14 Health Officer visited the place and took note about the camp and also he visited Swami's room and offered his pranams to Bhagwan. He was so happy about the arrangements and the way camp being conducted, with proper SOP.
They wanted to have their weekly vaccination camp at this place and requested to support.
We Offer our humble pranams to our Beloved Bhagwan for this wonderful opportunity to serve our brothers and sisters and protect them during this pandemic situation..
Though it's not our procedure, We thank our entire State, District team ,Convernors and Sevadals for wonderful cooperation for successful completion of this camp.
We had arranged Auto for pickup and drop Sevadals from their venue due to a lockdown situation..
Momento's were given to the medical team as a token of love (Bhagwans Photo, Viboothi Prasadam, Sanathana Sarathi and Bhagwan's Book etc)

With the Blessings of our beloved Sai Maa , on Friday, 04/06/2021, we had 2nd phase of Vaccination camp for the age group of 18 to 44 and 45 plus at Sri Sathya Sai Nivas, Perambur, with great support of Greater Chennai Corporation.
All our Front Line Youths/ Sevadals were vaccinated.
Chennai corporation had issued a special NOC for our Sevadals for their vaccination as Frontline workers and also for their trouble free travel during this lock down period.
Total Beneficiaries were 189.
We are planning for 3rd phase vaccination
We thank our Sai Maa for this wonderful opportunity to serve our society and thankful to Sri. S.R. Chandrasekaran Sairam State President, Sri Sarveswaran, State Service Coordinator,(Visited our Camp today & guided us)* and Shri. Sai Sreedhar Sairam of Kilkattai Samithi for their continued support for the smooth conduct of 2nd phase Vaccination camp too
Our sincere Thanks to the Medical Team of our Zone – 14 and the entire Office bearers & Sevadal Team of our District.
Jai Sairam
Sri Devanandan, District President, Chennai Metro North Zone.
Kanchi South
Sairam, With our Beloved Bhagawan's grace and with the excellent support of Smt. Chitra, Commissioner, Tambaram Municipality and Shri K.P.Sai Sreedhar of Kilkattalai Samithi Convenor, Covishield 1st dose vaccination Camp was conducted on 31 May at Sri Sathya Sai Seva Samithi, Tambaram, on the first floor of Dr Seshagiri Clinic , Gandhi road, Tambaram.

21 beneficiaries above 45+ got vaccinated 1st dose of Covishield vaccination. The beneficiaries were majorly Sevadals
I thank on behalf of SSSS organization, Commissioner of Tambaram municipality, SI and SI and Dr. Saravanavalli, Sheela madam for their excellent support in conducting today's vaccination camp

Ever in Sai Seva Sri N. Sankaranarayanan District President SSSSO(I), TN, Kanchi South
Tiruvallur East District
Sairam, With the Divine Blessings of our Beloved Bhagawan,
COVID VACCINATION CAMP , for both the age group of 18 to 45 years and above 45 years was organized with the support of Greater Chennai Corporation exclusively for our Sevadals (both Gents and Mahilas) and their families on 4th June, 2021, Friday at Sri Sathya Sai Seva Samithi No. 5, Shobha Nagar , Opp. Stedford Hospital, Ambattur, Chennai 600053
Sairam, with the Divine Blessings of our Beloved Bhagavan, 62 Sevadals in the age group of 18+ and 8 Sevadals in 45+ years got vaccinated in an exclusive vaccination camp at Ambattur.
Thanks to our Chennai Metro President Sri. S.R. Chandrasekaran, and Sri. K.P. Sai Sridhar, Convenor of Kilkattalai Samithi for organising this camp.
Also, we thank Senior Health Officials of Greater Chennai Corporation for their support in conducting this camp.
Time – 09.30 am to 12.30 pm COVISHIELD Vaccine for both First and Second Dosages

We thank Bhagavan for giving this opportunity.
Jai Sai Ram
Sri Rahavendra P, District President, Tiruvallur East District
Chennai Metro West
Sairam, With the abundant blessings of our bhagawan, 221 sevadals in the age group of 18 to 44 and 39 members in 45+ category got vaccinated in the special vaccination Camp organised at Sai Pushpanjali, T Nagar .
We have utilised full quantity of 260 doses of Covidshield.
Special thanks to Sri SR Chandrasekhar, Chennai Metro President and Sri Sai Sreedhar, Convenor of Kilkattalai samithi for organising this special camp.
We thank senior officials of Chennai Corporation for their support in completing this camp in a successful manner.
Jai Sairam
Sri K Suresh Chandar, District President, Chennai Metro West
Coimbatore
By the grace of our beloved Bhagawan, for the age group of 18 to 45, a free vaccination camp for Covid prevention was organised at Race Course Mandir, Coimbatore. Hundred and four members of Sri Sathya Sai Seva Organisations and one hundred and forty six men and women from general public were vaccinated.
Total number of beneficiaries: 250*
Jai Sairam.
Sri Raaja Subramaniam C K, District President, Coimbatore
Tirupur District
Sairam with the blessings of Swami Covid vaccine camp currently in progress for 150 sevadals and general public in Tirupur city at Sri Sathya Sai Mandir, Tirupur (18-44 category 78 nos, above 45 category 72 nos ) . The above camp organized with the support of Sri. Sridharan Kilkatalai convenor sairam .
Sri Sivasubramanium S, District President, Tirupur District